Labor
Dallas Is Where the Jobs Are
In this business cycle, "Let's move to Texas" is a popular decision.
by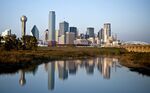 In the early days of the current economic expansion, Texas led the way. That stopped being true a couple of years ago; according to state jobs data released Friday by the Bureau of Labor Statistics, California has added the most payroll jobs (2.4 million) since employment bottomed out nationally in February 2010; Utah is the leader on a percentage basis (22.1 percent).
Still, Texas hasn't exactly fallen apart. Yes, a sharp drop in oil and natural gas prices has ended Houston's boom, for now, at least. The much-smaller metropolitan areas of San Antonio and Austin are experiencing slowdowns as well. But the state is still creating jobs -- and it's creating most of them in its biggest metropolitan area, Dallas-Fort Worth.
There are only four states (California, Texas, Florida and New York) that have added more jobs since February 2010 than metro Dallas's 661,000. Dallas has also added jobs at a faster pace than any of the nation's other 15 largest metropolitan areas (the Dallas area is the fourth largest, with an estimated 7.1 million people as of July 1, 2015).
The Great Recession was milder in Texas than just about anywhere else, so Dallas's performance stands out even more (and Houston's looks a lot better) if you measure over the course of the entire business cycle, starting with the employment peak of January 2008.
Since January 2008, in fact, the Dallas-Fort Worth area -- which as of 2015 was home to 2.2 percent of the nation's people -- has accounted for 8 percent of U.S. job growth. The New York metropolitan area accounted for even more (9.8 percent), but the New York metro area has almost three times as many people.
So metro Dallas has been, by just about every metric, the nation's job-creation leader. And these aren't bad jobs. Pay is above the national average, for white-collar jobs especially.
Why is Dallas booming? There isn't a single industry to point to: The sectors that employ the most people in the Dallas area are trade, transportation and utilities, and professional and business services. The fastest growing are those two plus financial activities. The area -- in particular the giant suburb of Plano, population 283,558 -- has been attracting lots of new corporate headquarters. The Dallas-Fort Worth airport, the nation's fourth-busiest, surely plays a role in that. So do state and local taxes that are well below the national norm.
And while all the job creation has driven up housing prices, the median price of a single-family home in the Dallas area is still, at $230,500, below the national median of $240,900 and way below the prices of coastal California and Boston, New York and Washington, according to the National Association of Realtors. Unlike many coastal cities, Dallas and its suburbs react to increased demand for housing by -- get this -- building more housing.
Put it all together, and Dallas has become a place that people and companies move to in large part because other people and companies are moving there. What could end this virtuous cycle? Sprawling development could eventually bring perpetually snarled streets and reduced quality of life -- commuting times in several of the area's suburban counties are already well above the national average of 25.7 minutes. Poor political governance could bring trouble: The city of Dallas, which is home to 18.3 percent of the metropolitan area's population, is currently flirting with bankruptcy because of pension-funding problems. Oh, and there's the climate: one projection has it that the number of 100-degree days in Dallas will go from an average of 15 a year in recent decades to 98 by 2100.
It could be something else, too. All economic miracles end, or at least tarnish, eventually. But it's still pretty remarkable to see one unfold.
This column does not necessarily reflect the opinion of the editorial board or Bloomberg LP and its owners.