Editorial Board
Trump's Too-Tidy Plan to Defeat Islamic State
If it were this easy, it'd already be done.
by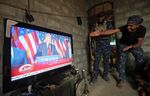 Come Jan. 20, President-elect Donald J. Trump will start carrying out his agenda. How does he expect to turn his promises into policy? Do his plans make sense? If not, what should he do? Finally, given the political realities of Washington, what's most likely to happen? This is part of a series of editorials that try to answer these questions.
What he says he'll do: Trump has frequently spoken of a "foolproof" plan for a "total victory" over Islamic State, but he has refused to divulge it. He has hinted, however, that he intends to fight Islamic State in Syria by sending in a significant amount of U.S. forces, quickly wiping out the terrorists, then bringing the troops back to the U.S. He also told the Pentagon leadership that they will have 30 days to send him their own proposal, and said the fight to retake the Iraqi city of Mosul from the terrorists was "a disaster."
Does that make sense? The problem is that this tidy plan ignores the multitude of players in the war: the Syrian regime, Hezbollah, Russia, Turkey, Iran, Iraq, Syrian Kurds backed by the U.S., Syrian Arab rebels, and terrorist groups including the Nusra Front, an al-Qaeda ally.
What he ought to do: The Kurds have proved far and away the most effective fighting force on the U.S. side, and the new president has to find a way of supporting them without inciting a military response from Turkey, which fears the establishment of a Kurdish state across its southern border. Sending in more U.S. forces is probably necessary, but moving tens of thousands of combat troops and their support personnel and equipment would take many weeks or months. And a coordination plan with Russia and Syria would be essential. As for Mosul, there's no changing a war plan that has shown consistent progress.
The most likely outcome: Trump has made much of his negotiating skills and his relationship with Russian President Vladimir Putin. This would be the time to put both to the test. Putin and Syrian President Bashar al-Assad may be keen to work out a deal in which the U.S. eliminates Islamic State and then leaves the scene entirely. Unlike the current administration, Trump seems uninterested in the longer project of resolving the Syrian political conflict. This would leave the people there to a miserable fate, and create the potential for chaos that could give rise to an Islamic State successor.
To contact the senior editor responsible for Bloomberg View's editorials: David Shipley at davidshipley@bloomberg.net .
Before it's here, it's on the Bloomberg Terminal.
LEARN MORE