view
Expect the Expected From Trump's Supreme Court Pick
The Republican Senate will want the president-elect to choose from the conservative elite.
by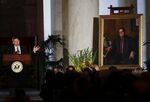 President-elect Donald Trump hasn't yet chosen the people whose job it would be to propose a U.S. Supreme Court nominee for him to choose. But that hasn't stopped speculation about who will be picked to replace the late Justice Antonin Scalia. It would be a mistake to make a projection with any confidence at this stage. Nevertheless, it is possible to identify the parameters and constraints that will go into the decision, which yields some scenarios with names attached.
The only thing that can be said with confidence is that Trump's Supreme Court nominee will be a conservative. Trump made that clear with the two lists of potential candidates he released during his campaign. And he returned to the theme in his "60 Minutes" interview, confirming that he really meant it.
Even if Trump were inclined to get wishy-washy, the Republican Senate would force him to pick a serious conservative. Although it may seem counterintuitive, Senate Republicans are going to constrain Trump's choice almost as they would have constrained Hillary Clinton.
If you doubt the Senate's influence on Trump's pick, remember Harriet Miers. She was the Texan ally and friend of George W. Bush who followed him to Washington and eventually became White House counsel.
On Oct. 3, 2005, Bush nominated Miers to replace Justice Sandra Day O'Connor. But by the end of the month, he had to withdraw the nomination.
The Senate was Republican. Miers was not going to be blocked by the Democrats. Instead, as reporting at the time made clear, the bulk of opposition came from Republicans who worried that she might not be conservative enough, especially on abortion rights. Some quickly organized conservative groups even ran TV ads against her.
Miers's withdrawal wasn't only driven by worries about her private views. She was also harmed by the fact that she wasn't a member of the conservative judicial elite. She hadn't gone to a fancy law school. She hadn't served as law clerk to a prominent conservative, hadn't worked in an executive branch position before coming to the White House with Bush, and had never been a judge.
Bush's replacement nominee, Justice Samuel Alito, demonstrated that the president had gotten the message. Alito was a card-carrying member of the conservative judicial elite. That drastically reduced the risk that he would be transformed into a liberal in his time on the court -- what many conservatives consider the Justice Anthony Kennedy problem.
What that means for Trump is that the Senate won't look kindly on a candidate who is seen as too outside the box. It doesn't absolutely disqualify judges who sit on state supreme courts, some of whom have standing within national conservative legal circles. But it makes it a lot less likely for them to be chosen.
District court judges, of whom there were a good number on Trump's list, are also pretty unlikely to be picked. Typically they don't have the same pedigree in terms of their clerkships and legal education as do many appellate judges. Trump himself might not care. But the conservative legal elite that influences Republican senators will.
That leads to the most important question associated with the nomination: whether Trump will want to nominate someone with the heft to replace Justice Antonin Scalia as the intellectual leader of the conservatives on the court. At present, three of the court's four Democratic nominees were law professors before becoming judges. But Scalia was the only one of the conservatives who had devoted his pre-judicial career to shaping legal ideas as a full-time academic.
Trump, who led a broadly anti-elitist campaign, probably won't pick a former law professor; in any case, George W. Bush didn't name many to the bench. But Trump could choose someone recognized in conservative legal circles as a serious thinker.
If he goes that way, then the three leading candidates would have to be appeals court judges Neil Gorsuch, Jeffrey Sutton and Brett Kavanaugh.
I put Gorsuch (10th Circuit) first because he's the only one of the three to appear on Trump's list -- and on Wednesday, Trump aide Kellyanne Conway told reporters that the president-elect intends to select from this list. Gorsuch is only 49, and he has an impressive resume that includes a Marshall scholarship to Oxford, a Supreme Court clerkship, and a serious book on the ethics of assisted suicide and euthanasia.
Sutton (6th Circuit) is a recognized expert on state constitutional law and extremely scholarly, regularly teaching short courses at Harvard Law School. A recent analysis of judicial positions by Adam Feldman, author of the blog Empirical SCOTUS, put him at the top of a group of potential Trump nominees. It's far from clear why he didn't appear on the Trump lists, but one possible reason is that, in a highly principled act of judicial restraint, he voted not to strike down the Affordable Care Act.
It's genuinely odd that Kavanaugh wasn't on Trump's lists, either. Kavanaugh, who worked in the Bush White House, is widely respected by movement conservatives, and has been a powerful conservative voice on the high-profile D.C. Circuit. He, too, teaches regularly at Harvard. Maybe Senator Ted Cruz, who reportedly played a role in shaping the list, didn't want to include a candidate with whom he feels personally competitive.
Trump could choose to go outside the national conservative legal elite. But the risks of doing so substantially outweigh the rewards. A quirky candidate simply presents too many uncertainties, both in the confirmation process and while on the bench.
Cruz has a claim to belonging to the elite, by virtue of clerking for the Supreme Court and serving as solicitor general of Texas. But the selection of the high-profile Cruz could easily become a target for democratic campaigning in 2018 and 2020. Much better to pick someone who is known deeply in narrow circles and not at all by the rest of the country.
At least that's been the pattern thus far. Trump has broken the conventional rules of politics repeatedly, and he could do so now. But the question is why he would. Given the lack of obvious benefits from an outside-the-box Supreme Court nominee, and presence of costs, I'm betting that convention will prevail.
To contact the author of this story:
Noah Feldman at nfeldman7@bloomberg.net
To contact the editor responsible for this story:
Stacey Shick at sshick@bloomberg.net
Before it's here, it's on the Bloomberg Terminal.
LEARN MORE