White House
How to Know If Trump's Really Draining That Swamp
Keep an eye on executive orders, which presidents can use to restrict lobbying.
by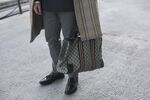 Donald Trump's election victory is already creating the economic boom he promised -- in Washington, along the K Street lobbying corridor.
After his "drain-the-swamp" campaign against Washington lobbyists, the president-elect has stacked his transition-planning team with the special-interest representatives he railed against. They'll populate his administration with people friendly to those interests.
A big bonanza may be just around the corner: the largest tax legislation in history. There's nothing that brings out the Gucci crowd like a tax bill and this one promises to be the mother of all tax bills. The stated purpose is a massive tax cut, but Washington insiders already are talking about how the interest groups will vie for favorable treatment. They don't expect Trump to stand in the way.
In his first post-election interview, on CBS's 60 Minutes, Trump rationalized the multitude of transition lobbyists representing oil and gas, telecommunications, agriculture and almost every other major interest as the only resource available in Washington. That will come as news to conservative think-tank analysts, Capitol Hill staffers, non-lobbying lawyers and entrepreneurs. OK, let's chalk this up to ignorance and set some early tests to determine how serious he really is about draining that swamp.
Term limits for members of Congress "We are going to put on term limits," Trump declared in the weekend interview. Senate Republican Leader Mitch McConnell has already told the president-elect to forget about that proposition, which would end the Congressional careers of McConnell and House Speaker Paul Ryan when they finish their present terms. It's a bad idea and it's not going to happen, but the president-elect has now made it a test of his leadership.
Executive actions Trump could continue and even expand the executive actions President Barack Obama took to crack down on special-interest lobbying. That includes, for example, a requirement that lobbyists who move into executive branch jobs need waivers to work on matters pertaining to their former businesses. High federal officials are banned for life from lobbying on issues they were involved in. Trump can extend these rules immediately.
Apply lobbying restrictions to Congress Obama's rules apply to executive branch officials. Trump could push Congress to extend them to lawmakers. Trump has a chance to persuade his Republican colleagues to stop the practice of using Congress as a stepping stone to a lucrative lobbying life.
Campaign-cash transparency Existing laws let campaign contributors donate money secretly. Trump could support a Disclosure Act to end that practice. He vowed to take foreign money out of political campaigns, but it's already illegal for foreigners to donate. Secrecy allows them to circumvent the law by giving money to non-profit groups that act as fronts for campaigns. If Trump is serious, he'll urge Congress to close that loophole.
There's more. Trump could toughen restrictions and disclosure rules on lobbyists who represent foreign governments. (Imagine the lineup of dictators ready to pay for counsel from Roger Stone, the longtime Trump consigliere.)
He could require his transition team to disclose the procedures they are following concerning the team's own lobbyists.
"I've been asking everyone what rules are they establishing," says Norm Eisen of the Brookings Institution who crafted some of Obama's ethics restrictions. "I can't get an answer from anyone."
Here's a clue. Few Washington lobbyists are as high-powered as Trent Lott, the former Senate Republican leader who, with his Democratic colleague, former Senator John Breaux, run the lobbying practice at the law firm Squire, Patton Boggs.
Lott has already volunteered his help. "Trump will need some people to help guide him through the swamp," Lott declared. "We are prepared to help do that."
I bet they are.
This column does not necessarily reflect the opinion of the editorial board or Bloomberg LP and its owners.
To contact the author of this story:
Albert R. Hunt at ahunt1@bloomberg.net
To contact the editor responsible for this story:
Jonathan Landman at jlandman4@bloomberg.net
Before it's here, it's on the Bloomberg Terminal.
LEARN MORE