Editorial Board
Fines Alone Won't Deter Corporate Crime
The public needs to know more about the deals prosecutors strike.
by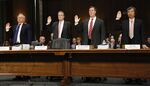 How should you punish companies that break the law? Granted, it's a difficult question -- but U.S. prosecutors need a better answer.
When the U.S. Justice Department said it wanted $14 billion from Deutsche Bank AG for mortgage-related transgressions -- an amount that has threatened to do grievous harm to one of the world's largest financial institutions, deprive people around the world of important financial services, and cost thousands of jobs -- markets tumbled and German politicians cried foul. Some central bankers are worried that fines amounting to more than $175 billion since 2010 for financial institutions alone could be holding back an already weak global economy.
Going easy, though, can't be the answer. Like every association under the sun, corporate entities are not immune to bad behavior. Over the past decade or so, banks and other companies have broken the law -- laundering hundreds of millions of dollars for drug cartels, helping dictators evade sanctions and lying for profit to customers, investors and the government. Such acts need to be deterred, but if possible in ways that don't cause collateral economic harm.
Greater clarity about the consequences of law-breaking would help. U.S. prosecutors have the tools for this, but make poor use of them. In setting penalties, they can refer to detailed sentencing guidelines designed to ensure consistency. They can offer discounts to encourage cooperation and reform. They can appoint independent monitors to ensure that companies pay restitution and change the systems that let the misbehavior happen. In all these respects, they're erratic.
Prosecutors typically don't explain how they've calculated their fines. In cases where a monitor is appointed, they actively resist public reporting. This obscurity can incline them to choose a quick, headline-generating penalty instead of pursuing individuals or following through on reforms, which is harder. It can facilitate shakedowns. And it lets executives pass the consequences of their misdeeds too easily along to shareholders.
More transparency is part of the answer. If companies could see how much violators saved by cooperating, they and their boards would be more likely to report misconduct. If the information they supplied helped prosecutors investigate and charge individuals, the need to punish shareholders with fines would be reduced. If reform efforts were openly and independently monitored, companies would have a stronger incentive to make them work. Finally, in cases that have multinational impact, states need to recognize that this is a job for federal authorities, in coordination with their overseas counterparts. 
Far too often, fines actually compound the damage done by corporate misbehavior, giving the impression that penalties are like parking tickets for delivery trucks, just another cost of doing business. U.S. prosecutors need to challenge those ideas with information -- making themselves more accountable in the process. And if they won't do that, Congress should insist.
--Editors: Mark Whitehouse, Clive Crook
To contact the senior editor responsible for Bloomberg View's editorials: David Shipley at davidshipley@bloomberg.net .
Before it's here, it's on the Bloomberg Terminal.
LEARN MORE