Women
Clinton Lost, But Women Still Won
Her candidacy ingrained the idea of a female president.
by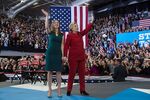 There will be the temptation to see Hillary Clinton's defeat as evidence that a woman can't rise to the top. If we're not careful, the dominant gender will whisper in the backroom, let's not nominate one of them again.
But it will happen, nonetheless -- and thanks to Clinton. Just seeing her win her party's nomination and triumph in three debates has ingrained the idea that a female president is inevitable. Multiple female candidates will stand upon Clinton's shoulders as she stood on others'. In her memoir "Hard Choices," she wrote that the venerable Maine Senator Margaret Chase Smith's challenge to Barry Goldwater for her party's nomination in 1964 inspired her to run for class president. They both lost and they both soldiered on.
Eight years later, the first black congresswoman, Shirley Chisholm, ran, losing to Senator George McGovern, who would go on to lose every state but Massachusetts. Hubert Humphrey gave Chisholm his delegates, which won her a speaking spot at the convention. Later, she said that just as the Catholic Al Smith's run paved the way for John F. Kennedy's victory, she hoped that hers would make others feel "as capable of running for high political office as any wealthy, good-looking white male."
It did. There were others who gave it a try -- from Congresswoman Patsy Mink, who gave us Title IX, to Senator Elizabeth Dole, each putting a chink in the wall of male prerogative. Women broke the vice-presidential barrier when Walter Mondale picked Representative Geraldine Ferraro as his running mate in 1984. Even though she was asked demeaning questions at the debate with Vice President George H.W. Bush, such as whether the Soviets wouldn't be tempted to take advantage of her because she was a woman, she cut a vivid picture at the convention of a woman who could be a heartbeat away from the presidency. In 2008, Ferraro said she looked at Hillary's name on the ballot and "It felt like Susan B. Anthony was standing beside me saying, 'Pull that lever'," according to Rebecca Traister's book, "Big Girls Don't Cry." Ferraro died before seeing Clinton win the nomination.
Without Ferraro, there might have been no Sarah Palin, often blamed for Senator John McCain's 2008 loss. But whatever you think of Mamma Grizzly, she laid the groundwork for women to fail upward. In this already improbable year, one of Trump's favorite surrogates is rumored to be on his short list for interior secretary.
In the long years that it was hard to get on any ballot -- the 19th Amendment wasn't ratified until 1920 -- women from Lucretia Mott to Jane Addams to Dorothy Day found others ways to wield power. Franklin Roosevelt is celebrated for his New Deal but there wouldn't have been one without the unelected (likely unelectable) sociologist Frances Perkins, a noted proponent of workers' rights as an aide to Roosevelt when he was governor of New York. The president-elect wooed her to be the first woman cabinet member by agreeing to her agenda: a 40-hour work week, a minimum wage, unemployment compensation and the abolition of child labor. Social Security, which changed the lives of the elderly? That was Perkins.
As we await the inevitable backlash -- that Clinton was the wrong woman -- she did what women do, spending hours consoling staff, donors, friends, family, and maybe somewhere in there, herself, as she tried to block out criticism that she let the team down by talking about education and health care when her opponent was taking the low road, leading chants of "lock her up."
Let's hope she then went home, power-walked past the elliptical, sat down and allowed herself a heaping bowl of ice cream. Clinton may have a different kind of consolation in mind. The news that the Clintons bought a house for Chelsea near them in Chappaqua fueled the rumor that the once First Daughter will run for the congressional seat opening up when Democratic Representative Nita Lowey retires in 2018.
Sure enough, Chelsea would have a head start and could well win. But don't count on it as a successful opening gambit in an effort to acquit her mother's loss. Dynasties seem to have lost their appeal. Before the 2016 campaign began, Barbara Bush asked if the country couldn't find someone other than a Clinton or a Bush to be president. The country did.
You wouldn't think Clinton has to defend her legacy, especially not to the women who voted for her. The next woman to attempt the ascent will find that she won't have to start at the bottom: Clinton established a base camp, closer to the peak than women have ever been.
The 54 percent of women who voted for her, and those who didn't, should say thank you.
To contact the author of this story:
Margaret Carlson at mcarlson3@bloomberg.net
To contact the editor responsible for this story:
Max Berley at mberley@bloomberg.net
Before it's here, it's on the Bloomberg Terminal.
LEARN MORE