U.S. Economy
A President Trump Fiscal Stimulus Is Coming
Corporate profits are looking up, despite his volatility and vague policy proposals.
by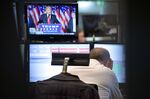 As the first states were called Tuesday night and it became apparent that Hillary Clinton wasn't going to roll to victory over Donald Trump in the presidential election, U.S. stock index futures -- along with lots of other financial indicators around the world -- fell sharply. Which made sense: Markets expected an easy Clinton win; anything other than that represented uncertainty, and uncertainty is bad for risky financial assets.
This morning, though, the S&P 500 Index and the Dow Jones Industrial Average regained all that lost ground. And while I'm going to make no bets on where stocks end the day or the week, it did strike me during this rebound that it might be worth considering another important determinant of stock prices. You know, profits.
After-tax corporate profits hit an all-time high in the fourth quarter of 2014 before sliding in 2015, then regaining some ground in the first two quarters of this year. Early indications are that they rose in the third quarter, too. Here's a longer view of profits as a percentage of gross domestic product:
From 1990 through 2012, corporate profits' share of GDP rose and rose, with interruptions for recessions. Corporations benefited from globalization, from technological progress, from low interest rates, and probably from a bunch of other factors. Not entirely coincidentally, many American workers and retirees suffered under those exact same conditions over that same stretch. Since 2012, corporations have given up some ground even as the economy has grown, although the growth has been so slow that I would guess most of those workers and retirees haven't noticed.
So what does having Donald Trump in the White House do to all this? That's really hard to say -- which is always true when a new administration takes over, but is especially so with Trump, given his personal volatility and the vagueness of many of his policy proposals.
But there's one thing I think we can say with confidence: that during a Donald Trump presidency, the federal budget deficit will grow -- a lot. That increased fiscal stimulus can be predicted partly from Trump's campaign proposals for tax cuts and increased infrastructure and defense spending, but also from the reality that the Republican Party will control both the executive and the legislative branches. In recent decades, Republican lawmakers have been tough on deficits when a Democrat is in the White House, and pretty lax about it when a Republican is.
That may be hypocritical, but it also may be better for the economy in the short-to-medium term than the gridlock and fiscal austerity that would have been likely in a Clinton administration facing off against a Republican-majority House of Representatives. In an era of near-zero interest rates and slow growth elsewhere in the world, a few years of much-bigger deficits in the U.S. could provide the macroeconomic regime change that some global-economy watchers have been wishing for. And yeah, such stimulus would give a boost to corporate profits as well.

Who knows what will happen after a few years of this? An out-of-control U.S. fiscal situation could start to weigh on growth. So could a Trump-led crackdown on trade and immigration. So could lots of other things the president-elect might do. As we've learned over the past decade, though, financial markets are really bad at factoring in such hard-to-quantify risks. It may be that what investors are doing right now is focusing on the stimulus that they see coming (Treasury markets definitely seem to be) and ignoring the rest.
To contact the author of this story:
Justin Fox at justinfox@bloomberg.net
To contact the editor responsible for this story:
Brooke Sample at bsample1@bloomberg.net
Before it's here, it's on the Bloomberg Terminal.
LEARN MORE