India
Is Indian Pharma Breeding Superbugs?
Badly handled waste from factories may be creating petri dishes for drug-resistant bacteria.
by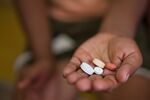 Here's a terrifying thought: A toxic stew of corporate neglect, lax regulators and a defensive government might be turning India's water bodies into breeding grounds for drug-resistant "superbugs." This, certainly, is what a series of recent reports and studies have suggested. And the Indian government's response to the reports won't set many minds at rest.