Economics
The Good News on Jobs Isn't All That Good
Initial claims for jobless benefits have tumbled to generational lows. But these numbers don't mean what they once did.
by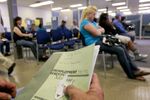 Are the initial jobless claims data as useful a tool as they once were in determining the degree of labor slack in the economy? Certainly, today's very low levels are cited as one of the key proxies -- along with the unemployment rate -- that raises concerns about the tightening labor market and the potential for wage inflation.
I'm going to offer an alternative view to that.
First, the weekly initial claims series at 258,000 for the week ended Oct. 22 warrants some attention, as does the 246,000 figure in the last week of September, the lowest level since 1974. Such a low level should cause even the most dovish of monetary policy makers at least some alarm about the potential for inflationary wage pressure. We will get an update to this data series tomorrow (the forecast is for 256,000, according to data compiled by Bloomberg), but with the four-week moving average at just 253,000, this won't change things.
However, comparing initial claims today with the past is the proverbial apples to oranges. An important fact in looking at claims data is that vastly fewer people today are eligible for unemployment benefits. In other words, the number of unemployed people who can't receive jobless benefits -- and thus are not in the initial claims data -- has risen relative to those who have unemployment insurance.
Today, the ratio of those with unemployment insurance to the total number of unemployed is about 30 percent, which pretty much touches the lows so far in this economic recovery. That's where the comparison with the level of claims in the 1970s -- or perhaps any pre-crisis era -- is misleading.
Let's take a deeper look at the 1970s. Back then the level of continuing unemployment insurance claims was about 60 percent to 65 percent of the overall unemployment level. That ratio fell to the 40 percent to 45 percent range from the 1980s to 2002, then rose to more than 50 percent in 2009, but has since fallen to the current lows. 
That so many fewer people are eligible for unemployment benefits may at first glance not seem like a crucial development for the labor market. Rather it underscores the changing nature of work.  Today we have more temporary workers, self-employed workers and contractors, many of whom are not eligible for unemployment insurance.  Is this the gig economy at work?  It's certainly a factor.  Either way, the lack of insurance coverage probably signifies that they are underemployed.  We'll get to that in a moment.
Now it is possible that workers might have taken jobs where they're ineligible for unemployment insurance by choice, but I doubt it. Further, with the implementation of the Affordable Care Act, it's possible that people are more inclined to take on those sorts of jobs because they can buy insurance on an exchange rather than get coverage through their employer.  Here too I have my doubts, considering the cost of insurance over the exchanges, especially for an aging population.
Nonetheless, I post the chart of this ratio below with the goal of suggesting that low initial claims figures are not the indicator of a tightening labor market that they once were.  I think that subdued wage gains bear this out. Real average weekly earnings on a year-over-year basis were up 0.8 percent in September compared with a 12-month moving average of 1.2 percent. Up is better than down, but none of this suggests that wage inflation is near.
Now consider continuing unemployment claims as a percent of all the unemployed as well as the percent of those who are specifically designated as job losers, or those who are eligible for unemployment benefits. Both have been in a long-term decline. Back in the 1970s, more than of 80 percent of continuing claims were accounted for by job losers, reaching almost 100 percent during the 1974 recession. Today, that figure is about 52 percent. Continuing claims as a percent of the total number of people unemployed was in the 40 percent to 50 percent range for most of the 1970s; now it's about 27 percent.  Both measures reinforce the broader concept that fewer people are eligible for unemployment insurance.
It's also worth noting that the standard measure of unemployment -- now at 5 percent -- doesn't capture the lingering weakness in the market seen in the broader U6 measure, which includes discouraged workers, other workers marginally attached to the labor force and those in temporary jobs because they can't get full-time work.  The conventional unemployment measure is a hair below its mean from 2003-7, which is 5.2 percent. The broader U6, however, at 9.7 percent is higher than its 2003-7 mean of 9.1 percent. This is just another sign that there's still slack in the labor market.
To contact the author of this story:

To contact the editor responsible for this story:
James Greiff at jgreiff@bloomberg.net
Before it's here, it's on the Bloomberg Terminal.
LEARN MORE