view
Why Bettors Take a Flier on Trump
Clinton is ahead in polls, but some predictive models favor the Republican.
by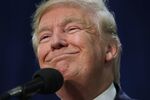 Polls are one way of predicting which candidate is leading in a campaign. They've been pretty accurate in U.S. presidential elections, though in Europe they've often been misleading in recent years and in my country, Russia, they are all but useless.
Gambling is another indicator of public sentiment. You can't place a legal bet on candidates in the U.S., but you can in parts of Europe, and there people have put their money on Donald Trump, ignoring his weakness in the polls. At William Hill, the U.K.'s largest bookmaker, 70 percent of the money is riding on Hillary Clinton -- but 65 percent of the individual bets are on Trump. In recent days, the money balance appears to have been shifting, too. On Monday, William Hill spokesman Graham Sharpe told me, 79.6 percent of the money bet on the U.S. election was for Trump, with 55.2 percent of individual bettors going in his favor. 
Sharpe's explanation is that Trump offers more attractive odds. "If you are going to bet, say, $20 on the outcome and you think Clinton will win, at the moment your $20 will make you a profit of $6.66 -- you probably won't think that is an attractive return so won't play," Sharpe told me by e-mail. "But should you think Trump will win, your $20 can make you a profit of $50. Hence there are currently more bets for him."
Serious amounts are being bet on the Republican nominee. The biggest individual bet on Monday was 7,000 pounds (about $8,500). People wouldn't bank so heavily on Trump if they didn't think he had a chance. Polls aren't the only metrics favoring Clinton – most existing econometric models also forecast a Clinton win. Still, here are some serious and whimsical indicators to give Trump bettors hope.
There are good reasons to ignore each of these predictions. Big-data analysis is a young discipline, and the methods are still relatively untested. All the models based on economic performance and the previous administration's performance could be unreliable in this year's race because it is so intensely personalized and scandal-ridden. Besides, these models do not boast perfect historical accuracy.  
On the other hand, the academic heft and logic behind the contrarian predictions gives a gambler enough to go on for a shot at bigger returns than Clinton offers. 
I doubt most William Hill clients analyze all these data before they make a bet: Many of them are blue-collar Brits who couldn't care less about U.S. professors and social-network content analysis. They have merely seen mainstream experts and pollsters fail in their own country, and they assume the same might happen in the U.S. They are betting on their disbelief in the establishment.
To contact the author of this story:
Leonid Bershidsky at lbershidsky@bloomberg.net
To contact the editor responsible for this story:
Jonathan Landman at jlandman4@bloomberg.net
Before it's here, it's on the Bloomberg Terminal.
LEARN MORE