Economics
How Italy's Job Market Beats the U.S.
It's doing better at employing middle-aged people.
by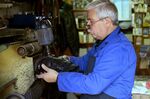 Italy's economic performance is typically viewed as among the weakest in the developed world. Yet by some measures, its workers are actually better off than those in America -- a reality that raises important questions about the functioning of the U.S. job market.
Compared with other developed countries, the U.S. is doing a middling job of providing people in their prime working years with employment. Consider the share of people aged 25 to 54 who have a job in the U.S., Canada, Germany and Italy. I've chosen these countries because Canada's economy has many similarities to the U.S., Germany is seen as one of the strongest job creators in Europe, and Italy is seen as one of the weakest. As the chart below shows, U.S. prime-age employment beats Italy, but falls short of Canada and Germany (the data, from the Organization for Economic Cooperation and Development, are for 2015):
But that's not the whole story. The aggregate data mask some important deficiencies in U.S. job creation. A breakdown by age group and educational attainment, for example, shows that America's advantage over Italy is confined largely to younger workers. More a third of Italians aged 25 to 34 are without work, regardless of whether they have a high-school or a college education. That's a much worse employment rate than in the U.S., Canada or Germany.
If we look at middle-aged workers -- people aged 35 to 54 -- the picture is very different. More than a quarter of Americans with a high school degree, and about 15 percent of those with a college degree, do not have a job. This is worse than in any of the other three countries, including Italy. Here's how that looks for the 35-to-44-year-olds:
And for the 45-to-54-year-olds:
Aside from providing a deeply troubling perspective on the performance of the U.S. labor market, these cross-country comparisons offer some clues as to why U.S. employment rates have failed to reach their pre-recession levels. Some observers have argued that the U.S. needs to roll back regulation and lower taxes in order to create jobs, or that labor-saving technologies are responsible for low employment. But Germany, Italy and Canada are certainly not less regulated or less taxed, and their companies have access to the same technologies.
For years, the robust and flexible U.S. labor market has served as a model for other nations. The plight of middle-aged workers, though, suggests that America might now have something to learn from others. Economic researchers would do well to explore what those lessons might be.
(
Corrects data on the 25- to 34-year-old employment rate in U.S. and Canada in third paragraph and second chart.
)
To contact the author of this story:
Narayana Kocherlakota at nkocherlako1@bloomberg.net
To contact the editor responsible for this story:
Mark Whitehouse at mwhitehouse1@bloomberg.net
Before it's here, it's on the Bloomberg Terminal.
LEARN MORE