2016 Elections
Obama's Comeuppance Tour
Mr. Spock turns out to be a partisan brawler.
by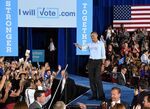 The Republican Party's sad journey to Trump via Sarah Palin and the Tea Party was more than a spectator sport for President Barack Obama. For more than seven years Obama endured indignities, slanders, obstruction and a seemingly bottomless appetite for partisan hackery as Republicans came morally, ideologically and organizationally unglued.
Often Obama held his tongue, occasionally to shield a potentially useful rival from the ire of partisans. After resigning his post, former House Speaker John Boehner told an audience in Florida that he couldn't afford to play golf with the president when he was in office because rabid GOP House members objected to displays of comity with the enemy.
Obama's not holding his tongue anymore.
In recent days he has lashed Republican cowardice and clownishness in blunt displays of contempt. With Hillary Clinton seemingly in command of the presidential race, Obama is turning his attention to lower contests, seeking to reverse the Democrats' catastrophic loss of seats during his presidency. There is method to his taunting. But there also seems to be a good bit of glee.
In Miami Gardens, Florida, last week, Obama tried to prop up a weak Democratic Senate candidate by tearing down his Republican opponent, Senator Marco Rubio. "It is the height of cynicism," he said of Rubio's support for Trump, whom Rubio had previously called a con artist too dangerous to be president. "That's the sign of somebody who will say anything, do anything, pretend to be anybody, just to get elected."
During his presidential campaign, Rubio made a habit of suggesting that Obama had sinister motives, and was executing a dark plan to undermine the nation. "Let's dispel once and for all with this fiction that Barack Obama doesn't know what he's doing. He knows exactly what he's doing," Rubio said repeatedly. (This was the robotic phrase, including the grammatical abuse of "dispel," that New Jersey Governor Chris Christie mocked so brutally in a February debate.)
Rubio tried to make the charge slyly enough that he wouldn't be held accountable for it, but clearly enough that Republican base voters would fill in the missing details with their own paranoid visions. Obama apparently hasn't forgotten.
On Sunday, Obama made even more pointed remarks at a fundraiser in La Jolla, California, calling Republican Representative Darrell Issa "shameless."
The charge may be irrefutable. The rise of Issa to chairmanship of the House Oversight and Government Reform Committee in 2011 was a landmark on the road to Trump. Before Issa even took the gavel, he called the Obama administration one of the "most corrupt" in history. He proceeded to conduct a series of hapless, blatantly partisan investigations, marked by selective leaks of misleading confidential information.
Issa's incompetence surpassed even his lack of scruples. He wasted years, millions of dollars and countless hours of executive-branch staff time on fishing expeditions and fake scandals. Yet the Southern California congressman produced nothing of lasting value even to his own party.
Now, facing a tough re-election race, Issa's campaign sent out a mail piece featuring a large photo of Obama signing legislation, clearly implying that he and Obama had worked on it together.
"Issa's primary contribution to the United States Congress has been to obstruct and to waste taxpayer dollars on trumped-up investigations that have led nowhere," Obama said on Sunday. "And this is now a guy who, because poll numbers are bad, has sent out brochures with my picture on them touting his cooperation on issues with me."
At times in his presidency, Obama has been cast as a hyper-rational "Spock." But Obama's performance was as much a product of political calculation as temperament. His rationalism and moral high ground represented a sharp and deliberate counterpoint to an increasingly unhinged opposition. "When they go low, we go high," Michelle Obama said in a recent speech. Those directions aren't just an ethical road map. They're a political strategy.
Reason and honesty versus unreason and hypocrisy was the basic contrast that Obama sought to draw throughout his presidency. Republicans understood this, hence their relentless attention to the president's claim, regarding Obamacare, that "if you like your plan you can keep it." Holier than thou is dangerous ground; if Obama could be dislodged, he could be broken. 
Now, after years of GOP dysfunction, and the nomination for president of a man with a small child's capacity for self-reflection and self-correction, the notion that the GOP is disturbingly out of sorts has become an easier sell.  
Obama critics always chafed at the notion that he was above the fray, too high-minded to wallow in the crass gamesmanship of his rivals. Mocking Issa on Sunday, Obama laughed outright. Recounting Rubio's political contortions, Obama chuckled and shook his head. Spock was useful in his time. He isn't needed anymore.
To contact the author of this story:
Francis Wilkinson at fwilkinson1@bloomberg.net
To contact the editor responsible for this story:
Katy Roberts at kroberts29@bloomberg.net
Before it's here, it's on the Bloomberg Terminal.
LEARN MORE