Latin America
Brazil's President Turns Scandal to His Advantage
Clever politicking leads to big reforms.
by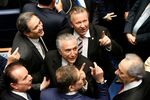 When disgraced Brazilian powerbroker Eduardo Cunha was arrested last week, the country's political establishment wobbled. Known for his Machiavellian skills as Brazil's Frank Underwood, the former lower house speaker was the biggest target in the biggest corruption scandal on record. He had repeatedly insinuated that he wouldn't go down alone. No one has more to fear from that threat than President Michel Temer, who rose to office in August when Dilma Rousseff was ousted, thanks to an impeachment drive that his longtime political ally Cunha had spearheaded.
But don't write off Temer or his ambitious reform agenda. Sure, there's no telling what outrages may be unearthed by the sleuths in the so-called Carwash probe into graft at the state-owned oil giant Petrobras, especially if Cunha follows the lead of other big-name suspects and strikes a plea deal. Yet the scandal that crippled Rousseff's government has played uncannily to Temer's advantage, hastening a suite of unpopular but salutary measures that Brazil needs to revive its stricken economy.
Thanks to his efforts to court the supermajority of lawmakers who voted to oust Rousseff, Temer has kept them from turning on him and scored some important legislative victories. As the tainted house speaker maneuvered to cling to office, Temer kept a clinical distance and used his sway to land a palace ally in Cunha's place. And after three of his cabinet ministers were forced to resign after being overheard plotting to stifle the Carwash investigation, Temer, instead of retreating, immediately put his budget to a vote and won. 
More remarkably, he convinced a fractious congress to back Amendment 241, a divisive constitutional amendment to cap public spending for at least the next 10 years; it passed a lower house vote by a commanding 366 votes to 111 (he needed 308 votes). In spendthrift Brazil, this was huge. Interest groups have howled that the measure will pauperize health care, education, and public security. In fact, by setting a clear spending limit, the amendment will force lawmakers to decide how to invest tax money and what to cut, returning budget-making to the democratic arena instead of the tent of miracles that congress has become.
Since even Temer's critics agree that Brazil can't possibly cap public spending and still honor the exploding benefits for its quickly graying population, Amendment 241 could also end up forcing politicians finally to reform the bloated pension system. That's why economists Jose Marcio Camargo and Andre Gamerman of the Brazilian asset manager Opus recently called the spending bill the "most important piece of economic legislation since the real plan," an economic stabilization blueprint that stopped hyperinflation in the mid-1990s.
The push for Amendment 241 also revealed Temer's dexterity at working the political backstage and bearding congressional apostates. "Whereas Rousseff hated that kind of politicking, Temer excels at it," said Octavio Amorim Neto, a political analyst at the Getulio Vargas Foundation. Tellingly, Temer's parsimonious new majority includes many of the same block of lawmakers who had all but sabotaged the Rousseff administration by planting "fiscal bombs," as Brazilians call bills packed with budget-busting populist spending increases.
It's tempting to conclude that Brazilian political leaders suddenly have seen the light and embraced fiscal responsibility. Yet something more prosaic may be behind this "come-to-Jesus moment," in the words of Christopher Garman, head of country analysis for Eurasia Group. "The political class was spooked at the size of the social, economic and judicial crisis that has hit the country," Garman told me. "They understand that in a time of resource scarcity the only way their political machines can survive is for the Temer government to work, and politicians have fallen in line."
The spending cap must still clear a second vote in the lower house, and two more votes in the Senate, each by a two-thirds majority. A victory there could create momentum for other proposals, such as reducing the plethora of political parties (there are 35) that turn every election into cacophony, streamlining rules for environmental licensing that discourage investment, and lifting the nationalist restrictions on drilling in the ultra-deepwater pre-salt oil fields. It's a measure of Temer's political acumen -- and the existential threat his allies face -- that few analysts doubt he'll win those contests.
In order to grow again, however, Brazil needs to embrace more contentious reforms -- simplifying the rococo tax code, for example, and modernizing the World War II-era labor laws -- that will surely cross the country's powerful lobbies. And therein lies the risk for Temer, and for Brazil. If the timid economic recovery stalls, or the Carwash probe reaches into Planalto Palace, enthusiasm for reforms could dissipate as fast as the government's fair-weather allies.
To contact the author of this story:
Mac Margolis at mmargolis14@bloomberg.net
To contact the editor responsible for this story:
James Gibney at jgibney5@bloomberg.net
Before it's here, it's on the Bloomberg Terminal.
LEARN MORE