2016 Elections
Trump Is Winning. Against Paul Ryan.
No matter who wins the White House, the House speaker faces Republican resistance.
by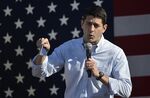 Donald Trump hasn't succeeded in discrediting Hillary Clinton, but he has managed to tarnish one target: Paul Ryan, the top Republican office holder in the country.
This week's Bloomberg national poll, which has Clinton trouncing Trump, shows the painful extent to which the GOP presidential nominee has dragged down the speaker of the House. Ryan's favorability with all voters has dropped, while the Republicans surveyed think Trump, not Ryan, should be the face of the party. This follows a series of attacks on Ryan by Trump for insufficiently supporting him. This week, the nominee even suggested that Ryan might want him to lose since it would clear the way for the speaker to run in 2020. 
After Trump's comments about assaulting women were aired, Ryan said he would no longer campaign for him. Before that, the speaker criticized Trump for his slurs against a Hispanic judge. Trump's attacks on Ryan have been more personal and, as a nominee assailing the party's top congressional leader, unprecedented.
Some Republicans are wondering if the personal damage has been such that Ryan might step aside as speaker even if Republicans, as expected, hold the House majority next month. This illustrates the bitter intra-party schisms Trump has caused.
"As a member of the Republican conference, I very much hope Paul Ryan stays -- he has been a very effective speaker," Oklahoma Representative Tom Cole, a close ally, said in an interview. Cole went on to say, "As his friend, it may be best for him to wrap up business and think about his future. Paul will have a big decision to make."
In the Bloomberg poll, 46 percent of all voters have a negative view of Ryan, and only 37 percent favorable, a drop from earlier surveys this year. More striking, when asked who represents their view of the party, Republicans by 51 percent to 33 percent prefer Trump over Ryan.
If Trump loses, as polls now indicate he will, he will inevitably blame others for his failings, as is his habit. So if Ryan remains speaker, he's likely to be in Trump's crosshairs for a while.
As Representative Cole notes, the speaker has overwhelming support in his own caucus. But he would come under vicious attack if he tried to make any deals and compromises with a Clinton administration, both from Trump and the roughly 20 percent of Republican House members who want to burn the place down.
This was evident in some of the reaction after Ryan encouraged House Republicans to focus on their own races, not the presidential contest.
"If Paul Ryan isn't for Trump, then I'm not for Paul Ryan," said Representative Jim Bridenstine of Oklahoma. California Representative Dana Rohrabacher accused the speaker of "panicking."
Even if Ryan maintained strong support in his House caucus in the wake of a Clinton victory, it would be very difficult for him to seriously advance a Republican agenda or rack up any accomplishments -- or pave the way for a presidential run.
To contact the author of this story:
Albert R. Hunt at ahunt1@bloomberg.net
To contact the editor responsible for this story:
Katy Roberts at kroberts29@bloomberg.net
Before it's here, it's on the Bloomberg Terminal.
LEARN MORE