2016 Elections
Trump Douses Himself in Woman Repellent
The Republican nominee seems determined to turn away a group of voters he needs to win in November.
by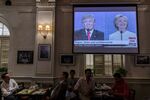 When a woman scores points in a debate, Donald Trump calls her "nasty." When women hear a woman make solid points, they call her someone they will vote for.
In the final debate on Oct. 19, Trump failed at the critical task of bringing women home. Hillary Clinton had me at hello, even though I am one of the voters suffering from a serious enthusiasm gap. Like many women, I want the first woman presidential candidate to be perfect. But watching Trump, her imperfections have all but disappeared. Women have to stop buying into the notion that a woman has to be twice as good as a man to get half as much credit.
In one exchange, she spoke for every woman who is overlooked. Her recitation of what she's accomplished -- for example, fighting discrimination while he has been sued for it -- exemplified the double standard. She capped her list of contrasts with "On the day I was in the Situation Room monitoring the raid that brought Osama bin Laden to justice, he was hosting 'Celebrity Apprentice.'"
Trump  was oddly OK with that, nodding and arching an eyebrow with pride, as if he actually believes hosting a reality show is equivalent to a career in public service.
There have been many such moments in this campaign, but this one should finally make Republicans drown in shame for letting Trump take over their party. It wasn't even a hostile takeover. From the birther movement on they saw his power to energize the base and let him waltz in. Their craven acquiescence will not only lose them the White House but possibly their majorities in Congress, too.
There aren't enough angry white men to make up for the gender chasm Trump's behavior has opened. But rather than narrow the gap, almost every word out of his mouth seemed designed to widen it. And that was before male bravado wouldn't allow him to walk back his refusal to commit to respecting the election results if they didn't turn out in his favor. Despite almost universal condemnation, he repeated the whopper on Thursday with a lame joke that he'd accept the results "if I win."
In fairness, Trump held himself together for about 20 minutes of the debate, like a child given a warning kick under the table to behave at dinner. He made an inaccurate but nonetheless troublesome point about late-term abortions that Clinton did not have a good answer for. But he went downhill quickly. When Clinton said something he disagreed with and he couldn't reclaim the floor by loudly butting in (35 times), he leaned into the mike and said "Wrong" (five times) and "Give me a break" (twice).
Clinton would have had a harder time responding to a question about the Clinton Foundation's "pay to play" if Trump hadn't broken in to take back the floor that she was quietly happy to cede. A small interjection proved Clinton's point that anytime he loses he says the game was rigged. To her charge that he slammed the Emmy awards when he didn't win one, he retorted "Should have gotten it." The U.S. Television Academy, which administers the awards, said in a tweet: "Rest assured, the #Emmys are not rigged."
Those are just the tics of behavior that so drive women to distraction that they don't even focus on the substance, such as Trump's determination to overturn Roe v. Wade and his resistance to any pushback against untrammeled gun rights. He's also nuke-happy. When Clinton said he'd been "very cavalier, even casual" with statements like "if we have them why don't we use them," he just called her "a liar."
He had no rebuttal for body-shaming Miss Universe or calling her an eating machine. He didn't even try to respond to the women who accused him of sexual assault who came out en masse after the airing of a tape in which he can be heard bragging about sexual assault: In a nutshell, his accusers are making it up and, anyway, those women don't meet his standards for the kind of women he would be tempted to grope and, oh, Clinton got them to lie. That's when focus groups jerked their dials as low as they could go. When Trump declared, "Nobody has more respect for women than me," Chris Wallace, the moderator, had to quell the laughter in the hall.
Trump volunteered that he was so sure he hadn't done anything wrong that "I didn't even apologize to my wife, who's sitting right here, because I didn't do anything. I didn't know any of these -- I didn't see these women." Never mind that his wife recently broke her silence to give an interview in which she said he'd apologized. In Trumpland, being a real man means never having to say you're sorry.
Even his responses that weren't gender-related would set your typical suburban mom's teeth on edge. Consider the twisted logic of Trump's assertion that he has a soft spot for Vladimir Putin because the Russian president has said he likes him. When she said Putin likes him because he wants a puppet, he snarled "You're the puppet."
The all-out effort to repel women culminated when, as Clinton talked about her plan to ensure the solvency of Social Security, he muttered "Such a nasty woman," He couldn't resist the t-shirt ready insult because she said "My Social Security payroll contribution will go up, as will Donald's, assuming he can't figure out how to get out of it."
Granted, if the forum in Las Vegas had been a primary debate, Trump would have won it with the Archie Bunker billionaire vote and those women now wearing "Talk Dirty to Me" t-shirts at his rallies. He doesn't need more of them, nor does the party he's slapped his brand on. Thursday morning he said Clinton had been given the debate questions, a ridiculous charge but also an excuse for why she'd done better. She didn't cheat, but she did win. Trump no doubt thinks he'd be less of a man if he admitted it. 
To contact the author of this story:
Margaret Carlson at mcarlson3@bloomberg.net
To contact the editor responsible for this story:
Max Berley at mberley@bloomberg.net
Before it's here, it's on the Bloomberg Terminal.
LEARN MORE