2016 Elections
Calm Down, America. Democracy Will Survive Trump.
Populists in Europe also challenge election results, say wild things and have sex scandals. Then they lose.
by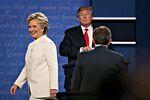 There's a lot of shock and horror about Donald Trump's refusal to say during Wednesday night's debate that he'd accept the result of the Nov. 8 vote. The outcry overstates the danger this poses to American democracy. European democracies have been dealing with this kind of threat in recent years, and have survived nicely.