Editorial Board
The Missing Climate Change Debate
It's important. It's controversial. It's absent from the presidential debates.
by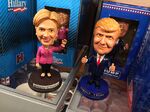 For a presidential campaign notable for dark warnings of the coming apocalypse, the one thing that actually could bring about an apocalypse -- climate change -- has been conspicuously absent from the debates. A final chance to raise the issue will come Wednesday, during the campaign's last debate.
Last week, the feckless Commission on Presidential Debates announced the topics for the upcoming meeting. Fox News host Chris Wallace, the moderator, has selected six areas for discussion, including several that have been amply covered in previous debates. ("Fitness to be president," anyone?)
Climate change is not among them. Nor was it a topic at the two previous presidential debates, nor at the vice presidential debate.
This is difficult to comprehend and harder to justify. It's not as if it's an unimportant or uncontroversial issue. In his seven-plus years in office, President Barack Obama has embarked on one climate initiative after another, always to strenuous (and occasionally justified) objections.
In his first term, Obama invested billions in green energy stimulus. In 2014, he negotiated an agreement on greenhouse gas reductions with China, then followed it with the Paris agreement in 2015, in which almost 200 countries pledged to limit emissions. The administration's Clean Power Plan is the subject of bitter politics and an all-out legal assault.
Meanwhile, the past two years have been the hottest on record, and the two candidates' approaches could hardly be more different. Hillary Clinton has promised to invest in clean energy infrastructure and to phase out greenhouse-gas pollutants. Donald Trump has promised to roll back environmental regulations, expand U.S. coal production and disregard climate science.
Too much time in the debates thus far has been spent on the tawdry and embarrassing. Partly this is inevitable -- those have been the defining characteristics of the 2016 campaign, after all -- but it needn't be this way. Wallace should make room for climate change in the discussion. On one of the most momentous and difficult issues facing their nation and the world, Americans deserve better than a blackout.
--Editors: Francis Wilkinson, Michael Newman.
To contact the senior editor responsible for Bloomberg View's editorials: David Shipley at davidshipley@bloomberg.net .
Before it's here, it's on the Bloomberg Terminal.
LEARN MORE