view
Meal-Delivery Startups Show Tech, Disrupted
Digital businesses like Blue Apron that operate in the physical world run into "old economy" costs like logistics and labor.
by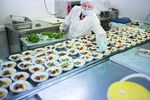 Blue Apron, the leading meal-delivery startup, pitches itself as "disruptive tech," but a recent BuzzFeed article shows that the tech is what's being disrupted. This company is at the mercy of physical-world constraints just like the brick-and-mortar businesses it's competing with. As tech looks to muscle its way into more parts of the economy, this may become a theme.
The customer experience via Blue Apron is indeed optimized by technology: A few clicks of a mouse or taps on your smartphone, and meal kits begin to arrive at your door every week. But the infrastructure needed to support that process is anything but optimized. Like Amazon, Blue Apron needs large fulfillment centers to manage orders and process inventory. It has to abide by OSHA and food-safety regulations, and has large warehouses where people work in near-freezing temperatures.
A question worth thinking about is what Blue Apron, and the meal-kit business as a whole, would look like if it hit some sort of mass penetration. BuzzFeed reports that Blue Apron has 4,000 employees distributing 8 million meals a month. That could feed 0.04 percent of the U.S. population (130,000 people eating Blue Apron meals for every lunch and dinner for a month). To grow to feeding 5 percent of the population, assuming no economies of scale, this industry would need roughly 500,000 workers stuffing meals into boxes. That's around a third of what Wal-Mart currently employs in the U.S.
The meal kit delivery business's big problem is that it's some combination of three existing businesses, none of which are attractive. Is it part of the grocery store business? That's one with notoriously low profit margins and valuations. Kroger had $110 billion in revenue in 2015 and has a market cap around 25 percent of that; the sector is battling food deflation. Is it part of the restaurant business? That industry is battling soaring labor costs, a challenge Blue Apron is dealing with right now as well. And as Chipotle can attest, scaling a fresh food business has challenges that scaling technology doesn't. Finally, is it part of the logistics industry? FedEx, UPS and Amazon are well-entrenched and well-capitalized incumbents, daunting for any startup to compete with.
One rebuttal to this skepticism would be that it wouldn't be the first time people have been skeptical of an internet company winning in a bricks-and-mortar business. But whereas with something like book sales, where the same title that retailed for $28 in a store might be available for $13 online, with meal-kit delivery the economics may go the other way. How many Americans are willing to spend $10 per meal and 30 to 60 minutes of preparation time, when that same $10 would buy a no-assembly-required meal at a restaurant?
This gets to broader questions about the next era of tech innovation. As Vox's Timothy Lee put it, when it comes to the specifics of utopian tech promises, there's too much of a view of "Who knows? But it will come!" In the case of meal-kit delivery, can we expect significant cost savings by having tens or hundreds of thousands of low-paid workers shivering in the cold shoving small portions of cilantro into boxes, which are then shipped all over the country?
While the future will surely dazzle us with unknown wonders made possible by future innovations, in 2016 there's too little skepticism about the when and how. For smarter investments and innovations, there will surely be more scrutiny in the media and the markets. When? Who knows. But it will come!
To contact the author of this story:
Conor Sen at csen9@bloomberg.net
To contact the editor responsible for this story:
Philip Gray at philipgray@bloomberg.net
Before it's here, it's on the Bloomberg Terminal.
LEARN MORE