view
Deutsche Bank Puts Safeguards to the Test
Markets aren't showing much faith in regulators' ability to prevent financial contagion.
by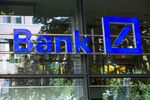 The travails of Deutsche Bank, which has seen its share price plunge to record lows amid concerns about the size of a looming U.S. fine, raise a crucial question: If the German bank needed salvaging, could authorities pull it off without damaging the rest of the financial system?
Judging from the reaction so far, markets aren't so sure.
Spurred by the disastrous experience of the 2008 crisis, regulators have created various safeguards designed to ensure that distress at a large financial institution won't trigger contagion. Europe's Single Resolution Mechanism, for example, is supposed to allow them to swoop in quickly and recapitalize a big bank -- largely at the expense of creditors -- with little or no adverse effect on all the other institutions that do business with it.
The Deutsche Bank case offers a unique opportunity to see what markets think about regulators' plans. After all, the threat of a big fine shouldn't be a systemic event: It applies to a specific institution 1 . If markets believe the resolution mechanism will work, they should focus their concerns on Deutsche Bank, not on others.
So what's the verdict? Not comforting. Since mid-September, when Deutsche Bank announced that the U.S. Justice Department was seeking $14 billion to settle a probe tied to mortgage securities, measures of credit risk have risen for banks throughout Europe and beyond. Here's a chart showing the percentage increase in the cost of five-year default insurance on the senior debt of Deutsche Bank and the largest banks in France, Italy, the U.K. and the U.S.:
To be sure, resolution mechanisms are still works in progress. For one, banks have yet to build up special layers of debt that regulators can "bail in" when they need to shore up an institution's finances. Still, the market's reaction doesn't suggest much confidence. It also reflects the recognition that the world's largest banks -- Europe's in particular -- are still so thinly capitalized that it wouldn't take much to send them into distress.
Ample loss-absorbing equity capital -- that is, money from investors willing to share in banks' risks -- is among the best antidotes to financial contagion. Instead of pretending that they can safely handle the failure of a systemically important bank, regulators should demand a lot more of it.
To contact the author of this story:
Mark Whitehouse at mwhitehouse1@bloomberg.net
To contact the editor responsible for this story:
James Greiff at jgreiff@bloomberg.net
Before it's here, it's on the Bloomberg Terminal.
LEARN MORE