Refugees
Matchmaking to Find Homes for Refugees
Technology could help refugees and communities find a better fit.
by and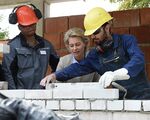 In its first-ever summit on refugees and migrants Monday, the U.N. urged member countries to do more to settle the 21.3 million refugees around the globe. If the U.N. could find a way to tackle even one small part of this problem -- the large number of available resettlement places that are not filled -- that would already be tangible progress.
Just one refugee in need of resettlement out of every 10 is offered a resettlement place, but even that paltry capacity is not being used up. The United Nations High Commissioner for Refugees (UNHCR) reports that every year since 2009 the resettlement opportunities are being wasted because the resettlement process is riddled with inefficiency.
QuickTake Europe's Refugee Crisis
Resettlement agencies spend weeks screening and interviewing refugees but refugees are rarely asked about their settlement preferences. Receiving communities are hardly consulted either, leading to widespread mismatches. An engineer from Syria, for example, might be resettled in a tiny village where the potential to eventually use his skills are limited, while a farmer is sent to a busy city, where he struggles to cope. This hurts both sides: Refugees are unable to find jobs and access appropriate social services and communities fail to integrate their new members.
Research shows that initial matches matter. Refugees who end up in unsuitable communities are more likely to be unemployed and their children are more likely to perform badly at school. When refugee placements fail due to misallocation, the long-term burden on society is much greater than if refugees are smoothly integrated.
The solution to these frequent mismatches is a comprehensive, algorithm-based matching system. In the past half-century, matching systems have been used to match medical residents to hospitals, connect kidney donors with dialysis patients, and assign military cadets to branches of service. In our work with the University of Melbourne's David Delacrétaz and Will Jones from Royal Holloway, we have identified how refugee–community matching systems might improve refugee outcomes by building on the systems many cities worldwide use to assign children to schools.
In a centralized refugee match, each refugee family would express preferences regarding the kind of areas it would prefer to live in (urban or rural? close to religious centers? accessible by public transport?). Local communities would also express preferences, perhaps prioritizing refugees who have skills that are in demand in the local economy, or who have particular medical or social needs. Refugee and community submissions would then be aggregated by a centralized matching system and used to match refugees to communities. 
Also, a good refugee -- community match would respect refugees' preferences and local communities' priorities, without wasting any places. Matching also gives refugees some dignity of choice and provides local communities with a sense of control. And in the long run, by enhancing the quality of refugee -- community matches, we may even increase communities' overall willingness to take in refugees.
A refugee -- community matching system can only work well if it incentivizes refugees to express their true preferences. For example, refugee preferences over resettlement areas should be elicited only after entry visas have been granted, so that refugees do not worry that their stated preferences could affect their chances of gaining entry. Complete contentment in matching is not possible and unrealistic expectations on both sides can still lead to disappointment; but a much higher share of suitable matches can be achieved.
A matching system does not create new resettlement places -- politicians do. The U.N. summit will put pressure on member states to expand refugee resettlement, but there will still be a shortage of places; the U.N. has already had to roll back an initial target of resettling 100 percent of refugees in need. But matching can at least help ensure that no resettlement opportunity is wasted.
This column does not necessarily reflect the opinion of the editorial board or Bloomberg LP and its owners.