Wall Street
Love, Friendship and Public Accounting Don't Mix
There's supposed to be a bright line between business and pleasure. Things get messy when it's crossed.
by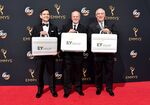 "Love is patient; love is kind; love is not envious or boastful or arrogant or rude," wrote Paul to the Corinthians, but if you are looking for something a bit less clichéd to read at a wedding, let me recommend this passage from a Securities and Exchange Commission order:
Their relationship was marked by a high level of personal intimacy, affection and friendship, near daily communications about personal and romantic matters (as well as work-related matters), and the occasional exchange of gifts of minimal value on holidays such as Valentine's Day and birthdays.
That is the most romantic thing I have ever read in an SEC order. 1  They have captured the essence of modern love there: intimacy, affection, frequent e-mails, gifts of minimal value. It's the thought that counts, to the SEC.
The problem is that this particular alleged 2 romantic relationship was between Pamela Hartford, an audit partner at Ernst & Young, and Robert Brehl, the chief accounting officer of a public company that Hartford was auditing. 3  Auditors are supposed to be "independent" of the companies they audit, so that they can impartially vouch for those companies' financial statements. That means that an auditor needs to be "capable of exercising objective and impartial judgment on all issues encompassed within the accountant's engagement," which is tough to do if you are ...
... if you are what? The tempting conclusion to that sentence is "if you are sleeping with the client," but the SEC doesn't actually say that Hartford and Brehl had a sexual relationship. 4  There was some junior-high-school-ish gossip at EY about them, 5 but for all I know, maybe things never got beyond a chaste exchange of Valentine's Day presents. Whatever was going on, the SEC takes EY to task for not having better policies to stop it:
Although EY's independence policies recognized that a non-familial close personal relationship between an engagement team member and a client employee in an accounting or financial reporting oversight role could present an independence problem, in the context of assessing its independence from the Issuer, EY performed no specific procedures to identify whether members of the Engagement Team, or employees who served in accounting or financial reporting oversight roles at the Issuer, were involved in such a relationship.
(What would those procedures be? 6  How awkward would they be?) But the SEC doesn't have super-clear rules on personal relationships either. The auditor independence rules have specific provisions covering investments by auditors in clients, employment relationships, non-audit services provided by audit firms, contingent fees, compensation, etc. It's all cool, impersonal, financial stuff. There's a catch-all provision that the SEC "will consider all relevant circumstances" that could impair independence, but no specific guidance about what sorts of gifts, on what sorts of holidays, could tip a relationship into the inappropriate.
In any case, the SEC fined EY $4.366 million for this, and fined Brehl and Hartford $25,000 each. At the same time, the SEC announced another fine against EY, for $4.975 million, for another auditor-independence violation. This one involved a partner named Gregory Bednar, who "was specifically tasked by the firm to improve its relationship with the New York-based audit client because it was a 'troubled account'":
EY served as the Issuer's auditor from 1996 until August 2015, when the Issuer terminated EY. In 2010, the Issuer, including the CFO, expressed dissatisfaction with certain aspects of EY's performance. As a result, in 2010, the Issuer informed EY that it was considering changing audit firms.
A new EY audit team was brought in, with Bednar serving as the "coordinating partner," which apparently meant that his key task was not so much auditing the client as it was schmoozing with the chief financial officer:
Bednar understood that his responsibilities as coordinating partner would include "developing" and "mending" EY's relationship with the Issuer.

The replacement audit team also included engagement partners who reported to Bednar. The engagement partners were responsible for day-to-day oversight of the audit, while Bednar had overall responsibility for the audit and focused on the "relationship piece" with the Issuer.
The SEC's objection here comes down to: Bednar was just a little too good at this piece of his job, which he performed "by developing and maintaining a close personal relationship with the CFO and members of the CFO's family."
Bednar spent extensive leisure time, including frequent overnight, out-of-town trips, with the CFO and his family. In all, Bednar and the CFO took at least seven out-of-town trips together during the relevant period, all of which were social in nature and did not have a valid business purpose, as that phrase was defined in EY's independence and hospitality and gifts policies. In addition to these trips, Bednar and the CFO attended sporting events and socialized near the Issuer's headquarters in the greater New York City area to an excessive degree. Bednar also gifted tickets to sporting events and other things of value to the CFO.
Here there is no suggestion of romance -- Bednar often brought his wife along while hanging out with the CFO -- but the essential problem is the same as in the Hartford case: The auditor and the CFO just liked each other. They had a non-work connection that would make it difficult for Bednar to maintain the properly adversarial-inquisitorial posture if the audit turned up any accounting irregularities at the company. 7  
Bednar maybe went a bit overboard on charging EY for the costs of his friendship with the CFO, but EY doesn't seem to have minded all that much. For instance, when Bednar tried to get EY to help pay for a trip for 13 people to the Masters golf tournament -- including himself, the CFO, the EY engagement partner and various family members -- he was turned down, but gently and with regrets:
Senior Partner C responded by saying that EY would not be able to pay for the tickets, but thanked Bednar for his "continued focus on building long lasting client relationships." He then apologized for not being able to help, writing "it sounds like a great event." 
The SEC views these requests as red flags that should have tipped EY off that Bednar's schmoozing was excessive -- his expense spending was "by far the highest in the practice" -- but, again, the SEC itself is not particularly clear about what social relationships are and are not allowed. EY obviously expected that Bednar would spend a certain amount of (his) time and (the firm's) money getting to know the CFO on a personal level, in order to smooth out the working relationship. He evidently crossed a line, but even in hindsight, it is not at all clear where the line was. 8  
A certain quantity of corruption is inevitable in all business. Really "corruption" isn't the word. A certain quantity of human interaction is inevitable in all business. The way deals are done is, the salesman takes the buyer out to dinner, and they talk about the deal, and at the end of the dinner they shake hands and the buyer's company buys the salesman's product. Did the buyer buy the product because the meal was expensive and delicious? Did he buy it because the salesman was personally charming and remembered to ask about the buyer's kids by name? Or did he buy it because the salesman spent the dinner making a rigorous and objective case for the merits of the product? I mean, I don't know, maybe all of those things. But if it was only the last one -- only a pure unemotional calculation of corporate advantage -- why did they bother going out to dinner? They could have done it over e-mail.
This sort of thing is as old as business, but we live in challenging times for it. Objective performance is easier than ever to measure, making it harder than ever to justify choices based on boozy dinners instead of rigorous cost-benefit analysis. Communications are easier than ever to record and monitor, making it harder than ever to operate by means of nods and winks. Technology has devalued human intermediaries: Now we buy stuff over the internet, not over dinner. Our society has an ideology of meritocracy, and a distrust of corrupt elites who use connections to get ahead. It's just a bad environment for the classic skills of salesmanship and relationship-building.
Banks have hired their clients' children forever: Now they can't. 9 Drug companies have bought doctors fancy dinners forever: Now they can't. Traders of all sorts have haggled forever by telling their customers that they're just barely making a profit on their trades: Now bond traders can't. And people in all lines of business have always tried to win over corporate clients by wining, dining and befriending the human decision-makers at those clients. Now, at least in public accounting, even that is suspect. There is a demand that business be brighter and clearer, based less on personal connections and more on transparent information.
But that is a hard demand to satisfy. It is easy enough to make bright-line rules that an auditor shouldn't accept bags of cash as a bribe from her audit client. It is harder to make bright-line rules that an auditor shouldn't have too many dinners with her client, or send him too many e-mails, or laugh too loudly at his jokes, or enjoy his company too much. You can't take all of the human element out of business, even if you wanted to (and why would you?). You can try to cut back on some of the most dangerous mixtures of business and pleasure, but it's not easy to define what those are. Those relationships will always be complex, hazy, shifting: That's what makes them human.
To contact the author of this story:
Matt Levine at mlevine51@bloomberg.net
To contact the editor responsible for this story:
James Greiff at jgreiff@bloomberg.net
Before it's here, it's on the Bloomberg Terminal.
LEARN MORE