view
The Robin Hood Tax Is Dead. Just Say So.
A dwindling number of European countries want to adopt a tax on financial transactions. It won't work.
by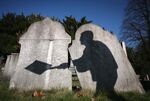 A handful of European Union nations is trying to maintain the fantasy that a tax on financial transactions makes sense. After five years of jawboning, negotiating and backtracking, they need to face up to the reality that the tax is unworkable, unwarranted and unwanted.
The latest twist in the saga saw Wolfgang Schaeuble, a key advocate of the levy, returning full circle to the original 2011 call for a global toll rather than just an EU rule. Engaging the Organization for Economic Cooperation and Development to advocate for the tax, the German finance minister said a few days ago, might break the impasse that's seen his coalition of the willing shrink to just 10 EU countries:
This may help us in Europe to resolve the dilemma of a good idea failing just because it won't work unless our neighbors are doing the same thing. In the end this requires global regulation.
Since neither the U.S. nor Japan nor the U.K. has any appetite for imposing a levy on trading securities, Schaeuble's acknowledgment that the plan is unworkable on a regional basis should finally kill off the proposal. Even within the EU, a minimum of nine countries is needed to complete so-called enhanced-cooperation talks; "Whether we're still 10 is something we don't know for sure," Schaeuble admitted on Sept. 10.
Interest in the tax peaked in the first quarter of 2012, when European Commission President Jose Barroso was claiming that the income raised could be enough to halve EU budget contributions from its member states. But the five years since the much-hyped "Robin Hood" tax was first proposed as an EU-wide initiative have produced much talk, but no action:

At the start of 2012, French President Nicolas Sarkozy was promising a unilateral French tax in August of that year. It didn't happen. In November 2014, Austrian Finance Minister Hans Joerg Schelling saw a "clear movement" to sealing a deal by the end of that year so the tax could come into force in 2016. In June 2015, a "successful conclusion" was coming soon, according to European Union Economic and Tax Commissioner Pierre Moscovici. Those finance ministers still interested in the cause continued to hold meetings on the fringes of official EU gatherings.
By September 2015, "important advances" had been made, French Finance Minister Michel Sapin said. Last December, Schelling said a "solution was needed" by the end of last year. Four months ago, Italian Finance Minister Pier Carlo Padoan said talks "have been slowed down, but this doesn't mean it's dead."
If it's not quite dead, the tax is certainly reduced to zombie status, wandering the corridors of Brussels.
The need for a coordinated policy change is one problem; if Austria, Belgium, France, Germany, Greece, Italy, Portugal, Slovakia, Slovenia and Spain go it alone, traders and investors will simply move their buying and selling to different jurisdictions that don't charge them for the privilege.
But there's also the wider issue that the tax would indiscriminately penalize all market participants, be it farmers protecting their livelihoods in the agricultural futures market, savers already punished by zero interest rates putting money aside in the stock market for retirement, or traders speculating for profit.
Moreover, the claim that the revenue raised would go into the coffers of participating countries is false; there's general agreement that a corresponding decline in gross domestic product erodes the wider tax take, meaning no net revenue is generated.
The EU has bigger issues to worry about than trying to force through a populist tax. Making concrete progress on a full banking union, negotiating away the differences between nations on how to introduce deposit insurance, and breaking the link between government debt and bank balance sheets are all better uses of finance ministers' time.
Debating a tax idea that was revived in the anger following the financial crisis is an unnecessary distraction, especially as the EU wrestles with the confusion of the post-Brexit environment.
To contact the author of this story:
Mark Gilbert at magilbert@bloomberg.net
To contact the editor responsible for this story:
Therese Raphael at traphael4@bloomberg.net
Before it's here, it's on the Bloomberg Terminal.
LEARN MORE