Shady Sex Ads May Have Some First Amendment Protection
A higher court must decide whether Backpage.com must obey a Senate panel's subpoena.
by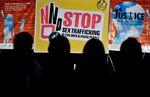 A Senate panel has called the online advertising site Backpage.com a clearinghouse for sex trafficking in minors, and has subpoenaed its policies and records. The company says it's a canary in the coal mine for government intrusion into the editorial decisions of journalists -- and has asked the Supreme Court to block the subpoena. Chief Justice John Roberts has stayed the subpoena to read briefs from the opposing parties. When he digs into the details, he may find that both sides are at least partly right.