2016 Elections
Elizabeth Warren Has Five More Bad Ideas
Some of her views on policies and appointments would harm the people she champions.
by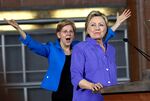 In return for her full-throated support for Hillary Clinton since the Democratic convention, Senator Elizabeth Warren is signaling that she would push a Clinton presidency to adopt her vision of a progressive agenda.
Some of her ideas, though, could have consequences counter to what she says her goals are: helping workers, raising incomes and ensuring that the system is fair for everyone.
I'm not even referring to Warren's blanket opposition to free-trade deals, which have long riven the Democratic Party, nor to her obsession with bringing back the 1933 Glass-Steagall Act to force large banks to break into investment and commercial banking halves. This would address a problem that doesn't exist, and in any case Clinton isn't likely to put Glass-Steagall on the table.
The tug of war might occur on other issues, such as tax and entitlement policies and senior appointments, over which Warren hopes to exert her influence. Here are five examples of her bad ideas:
In pushing these ideas, Warren sees herself as a progressive crusader, protecting the underdog from a rigged system. But if carried out, her policies could end up hurting the very groups she is championing. 
To contact the author of this story:
Paula Dwyer at pdwyer11@bloomberg.net
To contact the editor responsible for this story:
Katy Roberts at kroberts29@bloomberg.net
Before it's here, it's on the Bloomberg Terminal.
LEARN MORE