Kerry Brokers Trump's Plan for Syria
The administration and the Republican candidate seem to think we can trust, or at least deal with, Russia.
by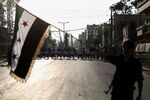 If Donald Trump wins the presidential election in November, he might want to make Secretary of State John Kerry his special envoy for U.S.-Russian cooperation in the war on terror. While the men disagree on many things -- from the Iran deal to the provenance of the Islamic State -- their Syria policy is on the same page.