Labor
U.S. Jobs Rebound Isn't Helping the Missing Men
Where are the the 7 million who have disappeared from the workforce?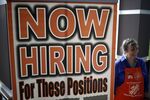 The unemployment numbers for August released last week showed that teenagers, a demographic group that has been dormant in the labor force in recent years, have experienced significant progress. The improvement, however, is further evidence that urgent attention must be paid to another group, the so-called missing men, the 7 million males age 24 to 54 who have disappeared from the workforce.
There are two reasons that tracking the teen unemployment rate is so valuable. First, these workers don't have the structural or displacement concerns that their older counterparts sometimes have. There are no teen workers with mortgages on underwater houses, or whose jobs have been outsourced or who have been displaced by technology. Teens are more mobile and flexible than all other age groups. In this way, their unemployment rate is a better signal about cyclical slack in the labor market.
And second, of all the demographic groups tracked by the Bureau of Labor Statistics, teenagers have the highest unemployment rate, by far. For people over 25 with less than a high school degree, the rate is around 7 percent. For teenagers, it's 15.7 percent, down from a high of 27.2 percent in 2009. Since 1970, the teen unemployment rate has spent little time below 15 percent.
In the aftermath of the recession, a common refrain was that workers with college degrees or families had taken jobs ordinarily filled by teenagers because, when given the choice, employers would rather hire an older, experienced worker than one still in high school who might be less reliable.

The teen unemployment rate is now close to its average of 2006-07, and the growth of this labor force is at an 18-year high. The minimum wage in many areas is going up, the labor market for entry-level workers is tight and teens are responding by joining the labor force. The last time the U.S.'s teen unemployment rate was under 16 percent and the group's labor force growth was at least 5 percent was in 1998.

The measures of joblessness that have stalled out in recent months are long-term unemployment and the broader participation rate. There are still 2 million people who have been unemployed for at least 27 weeks, a number that has barely declined over the past year. That's almost twice as many as there were at the lows of the last cycle. And the employment-to-population ratio for prime-age workers has shown little progress in recent months: It remains around 2 percent below where it was in 2006.
This would make it appear that the labor market still has quite a bit of additional slack, and the problem seems to be one of supply rather than demand. The unemployment rates in August for three sectors -- agriculture, construction, and professional and business services -- were the lowest on record. A fourth sector, leisure and hospitality, had its lowest unemployment rate since 2000. Job openings are close to record highs and businesses continue to report problems filling job openings.
These gains, however, may be exacerbating the problem of "missing men" -- unemployed, prime-age, poor males with no college degree who have given up looking for work (there are about 7 million of them) -- which increasingly appears to be the social crisis of our era. The Atlantic's Derek Thompson wrote about it in June and the American Enterprise Institute's Nicolas Eberstadt did so last week. We're still learning about this, but we know these men tend to be younger, tend to have lower levels of education, be unmarried and childless and are growing increasingly isolated from social and civic institutions.
This problem has not received much attention as the U.S. healed from the financial crisis. The hope remained that these missing men would reappear and go back to work if policy could be a little bit more stimulative and the economy could get a little bit better. The longer the expansion continues, the less likely this is to happen. It's time to stop looking to the Federal Reserve for solutions to this social crisis. Instead, it should be part of the national political debate where it belongs.
To contact the author of this story:

To contact the editor responsible for this story:
Max Berley at mberley@bloomberg.net
Before it's here, it's on the Bloomberg Terminal.
LEARN MORE