view
Down on Clinton and Trump? There's a Guy in Peru ...
Meet the national leader with the qualities I would most like to see in a president.
by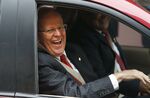 Approval ratings for America's two major-party presidential candidates are extremely low, and Donald Trump in particular has unfavorable ratings without modern precedent. To combat my growing depression, I set myself a task, namely to search the world for the national leader who has the qualities I would most like to see in a president or prime minister.
The winner is President Pedro Pablo Kuczynski of Peru, also known as PPK. He was sworn in on July 28, and so it is too early to judge his job performance. But there are reasons to be hopeful.
Let's consider the qualities that might matter in a national leader. Experience? PPK has plenty, having led two ministries (Energy and Mines and Economy and Finance) and served as general manager of the Central Reserve Bank and as prime minister (in Peru the president stands above the prime minister). Energy and mines are especially important sectors for the Peruvian economy.
Peru has a dynamic export economy with trade and investment connections to China, the U.S. and the EU, so you might think a Peruvian leader would need global experience and be well-connected internationally. PPK has worked for the World Bank and International Monetary Fund. He's extremely well-traveled, lived in Washington for many years, is married to an American and speaks fluent English. 
Academic credentials? He has a master's degree from Princeton, studied philosophy, politics and economics at Oxford, and, among numerous other publications, has written a first-rate Princeton University Press book on the history of Peruvian economics and politics during the 1960s. The study focuses on why Peru's earlier economic boom was not sustained, exactly the issue he faces as president today.
American voters, are you jealous yet? He's not just a candidate, he won.
How about street cred? Well, PPK fled Peru in the late 1960s after a military coup.
Private sector experience? He's been president of a mining company, co-chairman of First Boston investment bank and helped found a private equity firm to invest in Latin America.
But is he vulnerable to the strands of right-wing populism and sometimes even racism afflicting so many countries in today's world? Not likely. His father was a Jew who fled Nazi Germany and PPK is renowned for his internationalist and cosmopolitan outlook.
How about celebrity connections and glamour? Surely that is overrated as a political virtue and it may be irrelevant. Yet PPK wins again. He is related to the French-Swiss avant-garde film director Jean-Luc Godard, and some of PPK's earlier publications are listed under the name Kuczynski-Godard. His brother-in-law received a Nobel Prize for his research on cancer. 
You might worry about his age, since PPK is 77.  Still, some time was required for all of those accomplishments, and he campaigned energetically.
So what's the catch? One problem is that leadership at the top only takes a country so far. Upon his election, his party held only 18 of the 130 seats in Congress, and the main source of opposition, the Popular Force, still has a majority. In other words, PPK faces more than the usual array of checks and balances. He won the election by only 39,000 out of 18 million votes and arguably the mandate was more a repudiation of the main opposition candidate, Keiko Fujimori, than in his personal favor.
But this is probably more important: Peru has had a strong economic growth record recently, running now at 3.7 percent even after taking a big hit from the Chinese slowdown and falling from over 8 percent. The country also has made good progress fighting poverty, and debt, inflation and unemployment are reasonable. In copper production and agriculture, Peru is becoming more competitive, and per capita gross domestic product, adjusting for purchasing power parity, is now in the neighborhood of $12,000.
On the down side, too much of the country's wealth is concentrated in the capital, Lima. The country is too dependent on mining exports, and mining productivity could be much higher. The Peruvian government needs better relations with the indigenous communities who live near and influence the development of many of the mines, and in general there is far too much ethnic segregation. Infrastructure and water supply could use big improvements
It's wonderful to have an impressive leader, and I am optimistic about the future of Peru, but it probably depends most of all on the Peruvian people. In the meantime, do cheer up: eventually Washington elections may function as well as some of those in Latin America.
(
Corrects order of first and middle names in second paragraph.
)
To contact the author of this story:
Tyler Cowen at tcowen2@bloomberg.net
To contact the editor responsible for this story:
Jonathan Landman at jlandman4@bloomberg.net
Before it's here, it's on the Bloomberg Terminal.
LEARN MORE