Economics
Fed Harmony Hides the Dangers of Groupthink
Overconfidence can be worse than admitting you don't know if you're doing the right thing.
by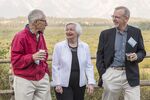 Traders and investors trying to parse the statements coming from the world's most important central bank are at a loss: Will an interest-rate increase come in September? And will there be one, two or no hikes this year? Instead of clarity about the economic outlook, the Federal Reserve is delivering Kodak moments, highly staged events that seek to communicate control but which really suggest that  form has replaced substance.
A photograph taken at last week's Jackson Hole gathering of central bankers and economists shows Fed Chair Janet Yellen flanked by New York Fed President William Dudley and Fed Vice Chairman Stanley Fischer. "I don't think we're propping up the Chair," Fischer said in response to a question on Tuesday from Bloomberg TV's Tom Keene. But he said the photo "sent a message that people within the system are thinking along the same lines."

Peter Hooper, the chief U.S. economist at Deutsche Bank, noted on Monday that the photo appeared to be carefully orchestrated for effect. "I think that one of the clearest statements out of the weekend was this one."
Is this what forward guidance has come to? Contriving photo opportunities to show harmony among policy makers? If so, it's time to really worry.
If the Fed's objective last week was to put its September meeting back into play as the potential venue for a rate increase, it can claim a partial success. Prices in the futures market show traders now see about a 34 percent chance of a hike on Sept. 21, up from 22 percent two weeks ago. But you still have to go out to December before the likelihood rises above 50 percent.
There's a very good reason for that market skepticism. Raising rates at a time when inflation is dormant and miles away from the central bank's 2 percent target seems somewhat perverse, especially when the forecast is for prices to remain subdued for many months to come:

The Jackson Hole Symposium (and let us note in passing what a great word symposium is, adding gravitas to what would otherwise be a mere conference) was an opportunity, as the event title said, to consider "Designing Resilient Monetary Policy Frameworks for the Future." Instead, Fischer's comment suggests it's business as usual at the Federal Open Market Committee, with no room at present for such innovations as changing the inflation goal or targeting nominal gross domestic product.
That's a shame. There's a consensus that monetary policy is becoming impotent, and that governments need to step in with fiscal stimulus. But until central banks admit that their firepower is waning, politicians can continue to evade responsibility. "You can't expect us to do the whole job," Christopher Sims, a Nobel Prize-winning economist from Princeton University, said at Jackson Hole last week. "Fiscal expansion can replace ineffective monetary policy at the zero lower bound. So long as the legislature has no clue of its role in these problems, nothing is going to get done. Of course, convincing them that they have a role and there is something they should be doing, especially in the U.S., may be a major task."
Finance -- particularly in an era of fractional reserve banking -- is essentially a confidence trick. Depositors have to be confident their money will be there when they try to withdraw it. Businesses have to be confident that the economy is on a sound footing otherwise they won't invest and hire. Central bankers aren't just economists and policy makers; they're also salespeople, selling a story.
So there's a bias for central banks to always express complete confidence in whatever policies they are currently pursuing so as not to frighten the horses. Jeremy Stein, a former Fed governor and now an economics professor at Harvard, says the U.S. central bank remains "keen to reassure we have got more tools as opposed to saying, 'Guys, we are kind of running low on ammunition here and the fiscal side needs to step up.'" 
As Don Moore, currently a professor at University of California Berkeley, demonstrated in 2009, experts who express the most confidence in their assertions typically win more attention than those with more nuanced predictions. But by pretending to still be in control of the global economic machine with their current toolbox, central banks are doing both us and themselves a disservice, letting governments off the hook.
This column does not necessarily reflect the opinion of the editorial board or Bloomberg LP and its owners.