2016 Elections
Trump's Building His Campaign Team (Again)
What management lessons can we learn from "The Apprentice's" sorcerer?
by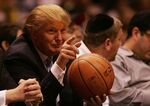 Eric Trump emailed Monday to encourage me to donate $25 to his father's presidential campaign, promising that I'd be added to a list of supporters that his Dad would review personally. The mass message also highlighted some priorities that Eric said he's learned from his father and that presumably are being put to use in the Trump campaign: research, fast action, hard work and building "a team with smarts and experience."
I'm not so sure about that team-building part. For one thing, the team at Trump Tower has been changing a lot lately. Last Friday, Paul Manafort resigned as the campaign chairman, after Stephen Bannon and Kellyanne Conway stepped in as the campaign's new CEO and manager.
Manafort himself had been brought aboard just two months earlier, forcing his predecessor, Corey Lewandowski, to depart for CNN. That came after an ugly spell of internecine battles. "It's a total cage fight in there now," is how one Trump operative described the Manafort-Lewandowski era to Politico.
For most of the past year, in fact, the Trump campaign team has been, at best, weakly organized and, at worst, chaotic. But that's not surprising: In his long, carnivalesque business career, Donald Trump has usually put his own interests front and center, and he's never been particularly good at managing sizable operations.
(Disclosure: I wrote a biography, "TrumpNation," published in 2005, that provoked a libel suit from Trump. He lost.)
The most complex venture Trump ever ran was his Atlantic City casino business. From the beginning, in the 1980s, he expanded his footprint there without bothering to master the finer details of managing a gambling enterprise. Sometimes he hired great executives, sometimes he hired bad ones, but rarely did he give any of them the freedom, resources or time they needed to be successful.
"We were pioneering a style of management that promised to be the most productive in the industry, one that combined hard work with an understanding of personal needs and communication," noted Jack O'Donnell, who had a three-year run as the president of one of Trump's casinos before he quit. "All of this was contrary to the way Donald operated. He was a terrible communicator and didn't know how to sort out his thoughts on a daily basis, let alone provide long-term corporate direction."
O'Donnell shared these observations in "Trumped!" -- his unsparing, 1991 memoir of working for the future GOP nominee. (Trump has described O'Donnell as a "disgruntled" employee.)
"Donald had come too far too fast. He was at the point where image superseded reality," O'Donnell wrote of Trump's Atlantic City sojourn. "In the same way that he believed a man could retain his hair by willing not to go bald, he thought he could redress the operational shortcomings of a multimillion-dollar company and make it successful by stating and restating that it was."
When Trump bought a casino from Hilton Hotels in 1985 he did so "without ever having been inside it," O'Donnell observed.
During a 16-month period stretching from late 1989 to early 1991, Trump churned through five different presidents he had hand-picked to run his flagship casino, the Taj Mahal -- a preview of how he's run his presidential campaign.
We know how all of this eventually ended in Atlantic City: four corporate bankruptcies, investments soured, jobs destroyed, a town left hollowed out, and Trump still angling for fees, perks, and other corporate table scraps until he finally exited the market in 2014.
The Trump Organization itself -- the licensing and development boutique on the 26th floor of Trump Tower -- is a tribal operation, increasingly stewarded by the three eldest Trump children. It is sparsely populated by a tightly knit group of loyalists who have been with the Trump family for many years. But it has never embraced a broader team of professionals, nor has it created a Fortune 500-level corporate bureaucracy, the kind that might serve as a model for, say, a national political machine.
A faux version of the Trump Organization was presented to the world in "The Apprentice," the hit reality TV show. But the show's weekly tutorials were about anything but team-building. Instead, contestants were invited to scheme against one another in a predatory elimination tournament that had them dodging the paterfamilias's ritual executions (on a set passed off as the Trump Organization's "boardroom").
Trump reveled in his "Apprentice" role and has always prized the real-world independence and lack of structure he enjoys within the Trump Organization. But none of that suggests that Trump is about to suddenly emerge as a team-builder. There is a Trump impersonator who lends himself out to major corporations to lead "Apprentice Team-Building" exercises, but he's not our guy.
To graft some semblance of a national organization onto the Trump campaign, the Republican National Committee has put a top strategist in Trump Tower who will try to play a more direct role in managing things. (This could put the 12-year-old who's now running one of the Trump campaign's Colorado operations out of a job.)
Yet every time campaign managers try to introduce a new Trump, the old Trump comes roaring back.
Last week, Trump's new team appeared to have steered him onto a fresh communications track, beginning with a national speech in which he said he regretted some of the more incendiary approaches he's taken to campaigning. By Monday, however, the candidate was flying solo again, launching a new round of highly personal and public insults against critics. (This broadside came shortly after his new campaign manager, Conway, publicly praised Trump's "compassionate" and "humble" sides.)
Conway has scrambled, too, to explain recent apparent shifts in Trump's immigration policy. After arguing that her boss had no intention of changing his hard-line approach, she had to concede that certain aspects of Trump's immigration stance, like mass deportations, were "to be determined."
"TBD" may be the ghost that will continue to haunt Trump's new handlers in the campaign's remaining 74 days. As for team-building, that may best be left to Trump's impersonator.
To contact the author of this story:
Timothy L. O'Brien at tobrien46@bloomberg.net
To contact the editor responsible for this story:
Mary Duenwald at mduenwald@bloomberg.net
Before it's here, it's on the Bloomberg Terminal.
LEARN MORE