Cities
How Big Can China's Cities Get?
Plans for vast urban "clusters" sound great. But a few questions remain.
by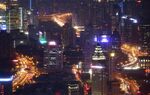 By any measure, Shanghai is one of the world's biggest cities. It's home to more than 24 million people. Its subway system is the longest ever built, extending to its rural limits. Crowds are so thick that burly "shovers" get paid to help pack the trains. Now the local government is saying enough is enough: Documents released this week reveal that Shanghai intends to admit a mere 800,000 new residents over the next 24 years, on its way to becoming an "excellent global city."