U.K.
Memo to Carney: The U.K. Already Has Negative Rates
Central banks try to steer borrowing costs, but traders and investors have their own ideas.
by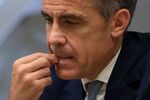 Negative interest rates, according to Bank of England Governor Mark Carney, are "a bit wrong." As is often the case these days, though, financial markets rather than central banks are dictating the cost of money, and the U.K. is already seeing some key borrowing costs drop below zero, a move that Carney says has produced "negative consequences" elsewhere.