2016 Elections
Donald Trump Loves Gold and Don't You Forget It
What could his obsession tell us about his message?
by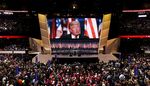 Donald Trump had lots of gold on hand for his center-stage speech at the Republican Party's nominating convention Thursday night.
There were the huge gold towers flanking the jumbotron:

There were cool gold stairs leading up to the stage, and a warm gold hue behind the power display of the TRUMP name:

And the speaker's podium itself was limned in gold:

Almost everybody else at the convention got cool, neutral shades when they visited the main stage, even Trump's wife, Melania:

Except for Ivanka Trump. Ivanka got the gold, too:

Gold surrounded Trump in Cleveland because Trump has always coveted gold. He's not the first guy to love gold, of course, and in a nod to his predecessors, he titled one of his books "Midas Touch." But Trump loves gold in his own special way.

There have been little gold-bar party favors at Trump political events:

Trump Tower has big, gold-hued letters over the front door:

The atrium inside Trump Tower has peach-colored marble and gold-hued brass everywhere:

Trump's personal triplex in Trump Tower has lots of gold leaf in it, too, even at breakfast:
Trump's advertisements overseas promote all the fancy gold stuff that comes with Trump condos:

Trump's jet has a big gold logo on its fuselage:  

Trump International Tower in Las Vegas is one big stack of gold:

When the Las Vegas tower opened, there were fancy ladies in sparkling gold outfits helping Trump at the ribbon-cutting:

The Trump Plaza casino in Atlantic City used to have snazzy gold tones throughout (before it went bankrupt and closed):

Trump once hosted an online game show called ... wait for it ... "Gold Rush":

Gold is everywhere in the Trump story. When he ventured into Manhattan real estate several decades ago, his first big project, the Grand Hyatt, had gold Mylar tablecloths in the main ballroom. His father, Fred, was proud. "I gave Donald free rein," he told a reporter. "Everything he touches seems to turn to gold." Trump put gold linoleum on the kitchen floor of his condo in Trump Tower when he first moved into the triplex. The Trump International Hotel in Manhattan is sheathed in gold-tinted glass, like a giant lame´ party dress. Trump's favorite James Bond character is Goldfinger.
What might be the policy implications of Trump's obsession with gold? He's thought about returning the U.S. to the gold standard. "We used to have a very, very solid country because it was based on a gold standard," he told an audience in New Hampshire. "It would be very, very hard to do at this point and one of the problems is we do not have the gold -- other places have the gold."
To contact the editor responsible for this story:
David Shipley at davidshipley@bloomberg.net
Before it's here, it's on the Bloomberg Terminal.
LEARN MORE