Editorial Board
Europe's Pointless 'Breakthrough' on Greece
It'll stave off an immediate crisis, but that's about all.
by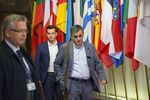 The leader of Europe's finance ministers called Wednesday's agreement on Greek debt a "major breakthrough." In a way, it was. The latest twist in this perpetual negotiation has raised the art of dithering to impressive new heights.  
The next financing crunch, which would otherwise have come this summer, has been staved off: Greece will get money to last it at least until October. To make this possible and maintain a show of comity, its official creditors have ventured various semi-commitments and vague understandings. But they left basic disagreements -- mainly between Germany and the International Monetary Fund -- unresolved. This epic of mismanagement is set to drag on.
QuickTake Greece's Financial Odyssey
Recently, and in increasingly strident terms, the IMF has called on Europe to commit to additional debt relief, whether by haircuts, caps on interest rates, extended maturities or a repayment moratorium. It has argued -- correctly -- that Greece's debts aren't supportable otherwise, even with the maximum feasible effort on the Greek side to achieve budget discipline. The new deal acknowledges this position by stating long-term targets for the debt-financing burden Greece will have to carry. What it fails to do is say how those targets might actually be met.
The leader of the finance ministers, Jeroen Dijsselbloem, reportedly said that the scale of further relief (if any) would be "made to fit" the requirements of debt sustainability. But what debt sustainability requires of Greece on one side and its creditors on the other has been the chief bone of contention throughout. Europe is no closer to answering the core question.
Germany's finance minister, Wolfgang Schaeuble, has mainly wanted to avoid decisions on easing Greece's debt burden any further before its current bailout program ends in 2018, despite the IMF's advice to the contrary. In addition, the finance ministers have been insisting up to now that Greece achieves and maintains a primary budget surplus of 3.5 percent of national income -- a target that the IMF calls undesirable and in any case unreachable. On both points, stasis has prevailed.
The deal avoids an immediate financial crisis, which is something, no doubt. It doesn't actually preclude the measures, including further debt relief, that will sooner or later be needed to put the Greek economy back on a stable footing. But it's a breakthrough with European characteristics -- one that settles nothing.
--Editors: Therese Raphael, Clive Crook
To contact the senior editor responsible for Bloomberg View's editorials: David Shipley at davidshipley@bloomberg.net .
Before it's here, it's on the Bloomberg Terminal.
LEARN MORE