Populism Is Holding Poland Back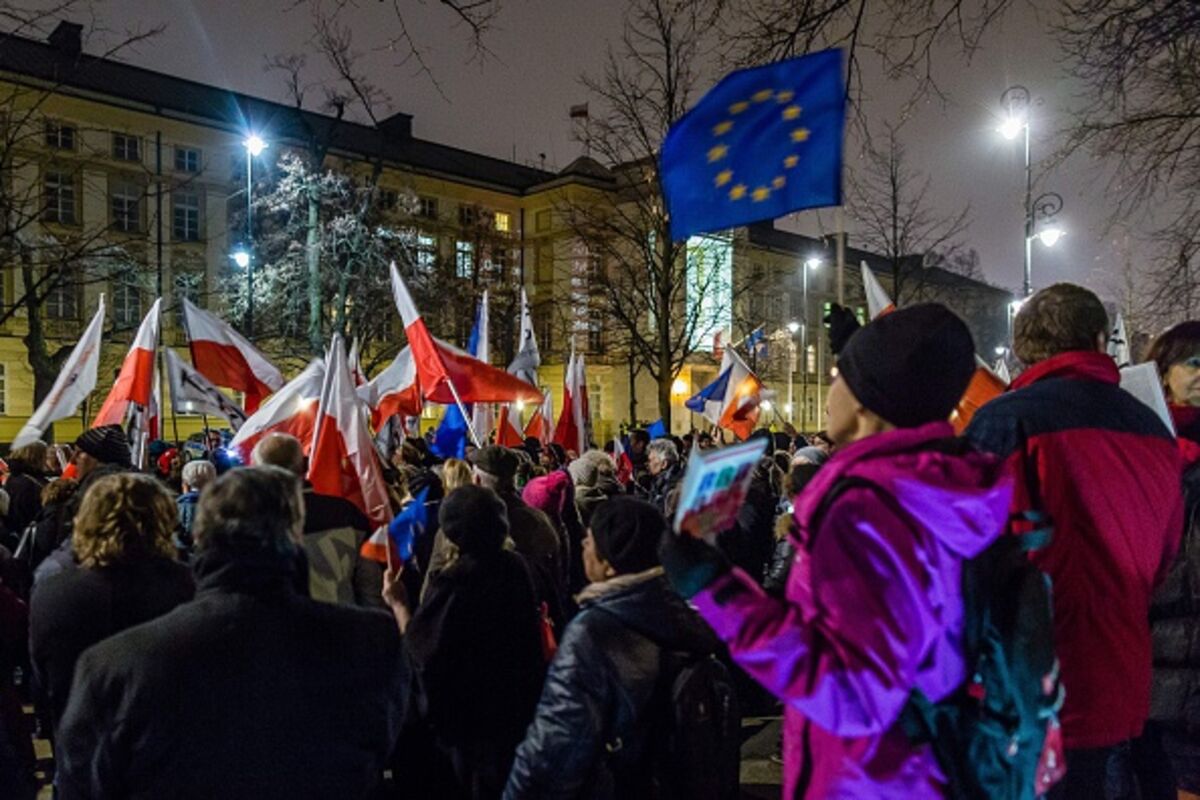 Constitutional government is popular too.
Photographer: Wojtek Radwanski/AFP/Getty Images
Poland's economy is doing fairly well, especially by European standards, but its populist-conservative government is keeping it from doing even better.
Earlier this year, S&P Global Ratings downgraded Poland's government debt. Moody's just changed its outlook for Polish bonds from stable to negative. The government's cost of borrowing has been creeping up. Foreign investors may be getting nervous: Net portfolio outflows were $2.3 billion in January and $3.8 billion in February. The International Monetary Fund talks ominously of "a weakening of some institutions." These are not good signs, and the new Law and Justice government needs to pay attention.
QuickTake Poland's Populist Turn
No question, the economy still has a lot going for it, with diversified producers, skilled workers, well-capitalized banks and plenty of new technology (transferred from Germany, especially). Growth slowed in the first quarter, but output was still well over 3 percent in 2015 -- much better than the European Union average. Optimists think Poland's economy is strong enough to withstand a little dumb populism.
That's incorrect. Relative to potential, Poland is underperforming. It's recovering from a severe slump and has a lot of ground to make up. Wages are one-third of the EU average, and its eastern provinces, plagued with high unemployment, are some of the poorest in the union. To converge with the rest of the union, Poland should be growing faster.
This requires far-reaching structural reform. Too many Poles have short-term work or temporary contracts. Too many jobs are in low-wage, low-skill industries. Public spending should be aiming to modernize the economy and promote long-term growth through greater efficiency in energy, mining and agriculture.
Instead, the government is busy awarding hand-outs, such as a new child benefit, and making expensive promises, including a plan to lower the retirement age. Sales of telecoms licenses and new taxes will help fund the spending this year, but it's unclear where the money will come from after that, or how the government will meet its 3 percent target for the budget deficit.
The populism also extends to bashing banks. The government has talked of converting foreign-currency mortgages to zlotys, on terms highly favorable to borrowers. According to an official estimate cited by Moody's, this could cost the banks an amount equivalent to more than 3 percent of gross domestic product, or 4.5 times their profits in 2015. Polish banks, hit with a new tax on their assets, are already reducing their lending. None of this will help the economy.
Instead of confronting the real economic challenges, the government is devoting most of its energy to fighting the constitutional court, clashing with the European Union, and ousting critics from state media and public bodies. All of this may make some voters happy, for a while. Populism is often quite popular, until it isn't.
To contact the senior editor responsible for Bloomberg View's editorials: David Shipley at davidshipley@bloomberg.net.