U.S. Economy
Sizing Up the Obama Economy
The recovery is better than it might have been, but happy days aren't here again.
by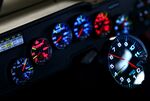 How did the U.S. economy perform under President Barack Obama? Better than it could have, but still poorly enough to leave a lot of people unhappy.
Obama's economic track record has come under renewed scrutiny as the race to replace him heats up. Republican frontrunner Donald Trump has called the economy "already reasonably crippled." Obama, in a recent New York Times interview, argued that his administration's achievements are greater than Americans recognize.
So who's right? For starters, it's important not to exaggerate the influence any president has over the economy: Obama came into office during a severe crisis, and has had to deal with a radically obstructionist Congress. Even with that caveat, the answer depends on how you look at it.
Compared with other major advanced nations, the U.S. has recovered pretty well from the recession of 2008 and 2009. Obama's administration moved much faster than its counterparts in the euro area, for example, to recapitalize banks and to provide fiscal stimulus -- actions that economists believe made a significant difference. As of 2015, U.S. gross domestic product, adjusted for inflation, was up 10 percent from 2007 -- more than in Japan, Germany, France or the U.K. Here's how that looks:

True, growth has been slow compared with other recoveries, at about half the average pace of the last six expansions. That said, a fairer benchmark might be recoveries from financial crises, which can present unique difficulties as companies and consumers struggle to repair their finances. By that measure, the U.S. economy's performance has been middling: GDP per capita took seven years to rebound to its 2007 peak (according to the latest International Monetary Fund data), compared with an average of about eight years for 100 recoveries across various countries during the past couple centuries.
Here's a chart comparing the length of the latest recovery in GDP per capita to other U.S. financial-crisis episodes:

Historical and international comparisons aside, it's easy to see why a lot of people aren't happy with the state of the economy. Despite all the progress made in creating jobs, wage growth remains weak and the share of people working is still below what would have been considered normal before the recession. In the three months through March, the employment-to-population ratio for people aged 25 to 54 stood 2.3 percentage points, or about 2.9 million jobs, short of the comparable average for the 10 years before the recession. Middle-aged white males -- who perhaps not incidentally make up a large share of Trump supporters -- had the biggest deficit. Here's how that looks:

So yes, Americans as a whole are probably better off than they would have been in the absence of Obama's efforts. But for many, that's still not good enough.
To contact the author of this story:
Mark Whitehouse at mwhitehouse1@bloomberg.net
To contact the editor responsible for this story:
James Greiff at jgreiff@bloomberg.net
Before it's here, it's on the Bloomberg Terminal.
LEARN MORE