Economics
Social Security or Savings? Um. Try a Little of Both.
It sounds like a path to stability: eliminate 401(k)s and corporate pensions, and ramp up government retirement benefits. Beware.
by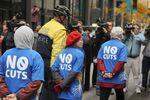 The other day, I tackled the vexing question of why so few Americans seem able to save enough. Today I'll tackle the vexing corollary to this question: the assertion that if individuals can't manage to save, the government must step in. Corporate pensions are dying, the argument goes, and private savings is laughably inadequate. Obviously, what we need is a much more generous Social Security system.