Declassified
Trump Just Hired His Next Scandal
His convention strategy is in the hands of a former lobbyist who's been linked to one corruption scheme after another.
by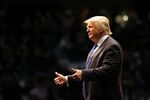 Here is an irony of the 2016 election season. The candidate promising voters that he won't be influenced by Washington lobbyists is counting on the influence of a Washington lobbyist to save his presidential campaign.
Late last month Donald Trump hired Paul Manafort -- who has represented his organization in Washington -- to make sure his delegates at this summer's convention in Cleveland actually end up voting for him. And for this task, Manafort is well-qualified. He ran delegate operations for the campaigns of Gerald Ford in 1976 and Bob Dole in 1996.
But Manafort's real specialty is in the netherworld of international lobbying. Trump has criticized both parties as selling out the U.S. to foreign interests. Now he is counting on a man who has represented many of them. 
Manafort has offered his services to not one but two presidents driven from power through popular revolution -- Viktor Yanukovych in Ukraine and Ferdinand Marcos in the Philippines. He has lobbied for Saudi Arabia, a Bahamanian president suspected of narco-trafficking and a former Angolan rebel leader accused of torture.
For this work, Manafort has been well-compensated. He told a congressional oversight panel in 1989 that his firm normally accepted only clients who would pay at least $250,000 a year as a retainer.
Spy Magazine reported that his firm received $600,000 one year as compensation for his work for Angolan rebel leader, Jonas Savimbi. The Daily Beast reported that Manafort's work for the Saudis netted him $250,000 for six months of work in 1984. A Justice Department form filed in 2008 from a subcontractor to Manafort's firm said the PR work alone on behalf of Ukraine's government was paid at $35,000 a month.
In 2013, Manafort surfaced in a French influence-peddling scandal involving Edouard Balladur, who was prime minister in the mid-1990s. Manafort acknowledged in a Virginia court that he was paid by an adviser to the Saudi royal court more than $200,000 for advice he provided on security issues. That adviser in turn funneled the profits of an arms sale back into Balladur's political campaign.
Manafort did not respond to an e-mail seeking comment. When asked about his Ukraine lobbying on "Meet the Press" on Sunday, he said that Trump was now his only client.
Most lobbyists make their money from contracts with clients, like lawyers and other consultants. And Manafort does as well. But he has also branched out.
In 1989, Manafort was hauled before Congress for a classic example of Washington double-dealing. His firm received a $326,000 fee for securing for a client a $43 million Department of Housing and Urban Development subsidy for a block of low-income apartments in Seabrook, New Jersey. Manafort then purchased a 20 percent stake in the Seabrook subdivision that was to receive the federal subsidy for which he lobbied.
When a Republican congressman remarked that the whole deal was sleazy, Manafort replied: "We worked the system as it existed. I don't think we did anything illegal or improper."
This was not the last time Manafort explored real-estate deals connected to his lobbying work. Documents uncovered in 2014 from a lawsuit brought about by former Ukrainian prime minister Yulia Tymoshenko show that Manafort attempted to set up a real-estate partnership with Dmitry Firtash, a notorious Ukrainian businessman who financed the party of former Ukrainian president Viktor Yanukovych and who is wanted by the FBI on bribery and corruption charges.
The documents, first reported by the Washington Free Beacon, include a Nov. 6, 2008, letter to Manafort from Firtash's holding company that says it had deposited $25 million in escrow for a plan to buy a tower in Manhattan and was prepared to invest $112 million for the project with the understanding that Manafort's own Calister Investments LLC will be the project's developer.
David Kramer, a former senior State Department official who worked on Russia and Ukraine and is currently a senior director for human rights and democracy at the McCain Institute in Washington, told me Manafort was "a persistent lobbyist" for Yanukovych when he was in government. "He was trying to paint Yanukovych as something he wasn't," Kramer said of his dealings with Manafort. "The Ukrainian president is a corrupt Soviet-style apparatchik who was interested in coming to power for the sake of serving his own interest and not his country. Manafort portrayed him as somebody who could reform." 
Given that Manafort cashed in on federally subsidized apartments and given that Firtash is accused of trying to bribe public officials, the attempted real-estate deal between the two men at the very least gives the appearance of wrongdoing -- the kind of appearance that most presidential candidates would try to avoid.
"Someone who has had such close relations with notorious kleptocrats doesn't belong anywhere near any of our presidential candidates," Charles Davidson, executive director of Kleptocracy Initiative at Hudson Institute, told me.
Indeed, in 2008, the McCain campaign considered Manafort for the job of Republican convention manager and then dropped him because of his work with Ukraine and other shadows on his resume.
But Trump is an unconventional candidate. The real-estate mogul with a taste for politics has turned to a political operative with a taste for real estate. In this sense, Trump and his former lobbyist are a perfect match.
To contact the author of this story:
Eli Lake at elake1@bloomberg.net
To contact the editor responsible for this story:
Philip Gray at philipgray@bloomberg.net
Before it's here, it's on the Bloomberg Terminal.
LEARN MORE