view
Xi's Washington Visit Crashed by Unwelcome Guest
Beijing complains as the U.S. allows a human-rights advocate to visit.
by and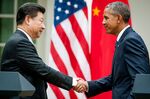 Just ahead of Thursday's meeting between U.S. President Barack Obama and Chinese leader Xi Jinping, Beijing is protesting a U.S. decision to allow one of his state's highest-profile victims into the country.  
At issue is an award ceremony. On Wednesday, the Victims of Communism Memorial Foundation in Washington presented an honor to Dolkun Isa, the head of the World Uighur Congress, for his work advocating the rights of the millions of Muslim Uighurs living in western China.   
Ahead of the event, China's foreign ministry issued a formal protest, or demarche, to the State Department for allowing Isa, who lives in exile in Germany, to attend the ceremony. While the U.S. government has nothing to do with Isa's organization or the Victims of Communism Memorial Foundation, the Chinese were nonetheless offended. They see the foundation's event as a slap in the face for Xi, who alone among the world leaders in town for this week's Nuclear Security Summit has been invited to a formal meeting with Obama.
The Chinese consider Isa a terrorist leader. Needless to say, the Victims of Communism Memorial Foundation disagrees. Founded in 1994, it exists in part to call attention to repression in the remaining states that still adhere to the philosophy of Marx, Lenin and Mao.
"You know you are doing something right when the wrong people criticize you," the foundation's chairman, Lee Edwards, said as he presented Isa his award Wednesday in a small room at the Congressional Club on Capitol Hill.  
The Isa visit will make an already cool environment between Obama and Xi even chillier. U.S. officials have not publicly committed to raising the plight of the Uighurs despite reports of mounting oppression and restrictions against ethnic Uighurs living in western China.
Dan Kritenbrink, the National Security Council's top Asia official, told reporters Tuesday that Obama will bring up a number of issues with Xi during the 90 minute meeting, including human rights, cyber-espionage and China's military expansion in the South China Sea. "We don't paper over these differences," he said. "We don't hide them. We don't pull punches in addressing them."
It should be said that China's claim that Isa is a terrorist is unsupported. While he acknowledged to us in an interview that a very small number of Uighurs have been "brainwashed" by groups like the Islamic State to fight in Syria, there is no evidence that Isa has had anything to do with it.
Indeed, Isa has been exiled from China since the mid-1990s. Since helping found the World Uighur Congress in 2006, Isa has been a consistent advocate for nonviolent resistance.  
"The Chinese government calls me a terrorist because I was a student protest leader," he told us.
Isa was a student democracy activist at Xinjiang University before he was expelled in 1988. He then began distributing Uighur history books to Uighurs deprived of learning about their culture in Chinese communist schools. For this he was exiled to Turkey and later received asylum in Germany. 
"I believe in the freedom of the Uighurs and this is why they have tried to stop all of our leaders from obtaining an international platform," he told us. "China has succeeded in the past, but recently more countries understand who I am."
His World Uighur Congress receives about 40 percent of its budget from the National Endowment for Democracy, an independent U.S. organization funded by Congress and not known for its sponsorship of terrorism.
Nonetheless, the Chinese government has placed Isa's name on Interpol's registry of criminal fugitives. He has been barred from traveling to China and Turkey. In 2006, he told us, he was turned away from a planned U.S. visit because of pressure from Beijing.
A State Department spokeswoman declined to discuss the current controversy with us when asked this week. Another administration official, however, confirmed the Chinese had issued the demarche. Marion Smith, executive director of the Victims of Communism Memorial Foundation, told us the State Department contacted him before the award ceremony.
"We got a call from a State Department official and they were interested in our rationale for having the event," Smith said. "They said there was interest from China as to why this event would be held honoring Isa during Xi's visit."
When asked for a comment, Gabrielle Price, a spokeswoman for the State Department's Bureau of East Asian and Pacific Affairs, told us, "We remain deeply concerned by ongoing reports of discrimination against and restrictions on ethnic Uighurs in China. We have urged the Chinese government to reform policies that restrict the exercise of peaceful expression and freedom of religion." She added: "At the same time, we unequivocally condemn acts of terrorism and violence." 
The Obama administration has in general chosen to address China's treatment of Uighurs in private. One exception was in 2014, when Secretary of State John Kerry and the White House press office called for China to release a Uighur professor, Ilham Tohti, who had been sentenced to life in prison for advocating separatism.
Isa told us he would like to see more such stances. "During these meetings with Chinese leaders, Obama has been too soft on Chinese human rights, he should say the things that he says in private in public," he told us.
In his years representing the Uighur victims of Chinese communism, he has learned that public shaming is often more effective than the polite, private diplomacy to which his people's tormentors are accustomed.
To contact the authors of this story:
Eli Lake at elake1@bloomberg.net
Josh Rogin at joshrogin@bloomberg.net
To contact the editor responsible for this story:
Tobin Harshaw at tharshaw@bloomberg.net
Before it's here, it's on the Bloomberg Terminal.
LEARN MORE