view
Poland's President Isn't Reassured by Obama's NATO Plan
Sending more U.S. troops to Europe is good. By why put them so far from Russia?
by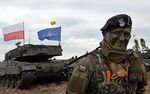 President Barack Obama's administration has announced a huge increase next year for NATO's presence in Europe, in response to Russian aggression. But Poland, for one, is upset that most of the new money and equipment will go into Western Europe rather than to those alliance members on Europe's vulnerable eastern front.
This week, the Pentagon said it would soon start rotating an additional full armored brigade in and out of Eastern Europe, part of the Obama administration's "European Reassurance Initiative," a fourfold increase in the U.S. program to bolster NATO. But a day after the announcement, Polish President Andrzej Duda told me that the program was insufficient to protect Eastern Europe in the case of a Russian attack.
I asked Duda about the $3.4 billion U.S. program at a meeting with reporters Wednesday in Washington, where he was attending the Nuclear Security Summit. The Polish president said while having more NATO and U.S. troops rotate through Eastern Europe was positive, that's only one half of what NATO needs to do to ensure Russia is properly deterred.
He called for "the presence of defense infrastructure of NATO in our territory," and cited a "series of studies" that led him to believe that if Russia attacked over the Polish border, the current plan would not be able to prevent the Kremlin from cutting off Eastern Europe before the alliance could respond.
"Today, the missile potential of Russia in the Kaliningrad Oblast is so significant that it can render impossible the relocation of forces, it might impede those forces from reaching the threatened territory," he said, referring to weaponry in a patch of Russian sovereign territory tucked between Poland and the Baltic countries. "As a consequence of this situation, we should see the deployment of appropriate defense infrastructure in those territories in which potentially such assistance might be needed."
Duda said his government would continue its efforts to convince the U.S. government and NATO to build more permanent infrastructure in Poland -- to guard against a missile attack and to ensure that any forces there would be self sufficient and not dependent on reinforcements from the west.
To be sure, Poles also have a political motive for wanting permanent NATO forces. They have long sought to render obsolete a 1997 nonbinding agreement between the U.S. and Russia that proscribes "permanent stationing of substantial combat forces" in former Soviet states. But many in the U.S. and Europe feel that Russia has already broken the 1997 pact with its actions in Ukraine, and Duda is not alone in believing that NATO's Eastern front is also vulnerable to a Russian attack.
Top Western defense officials have cited a new study produced by the Rand Corporation based on war games that warned if Russian heavy weapons rolled into Eastern Europe, the forces there could be overrun in as little as three days. "The games' findings are unambiguous: As currently postured, NATO cannot successfully defend the territory of its most exposed members," the report stated.
The outgoing Supreme Allied Commander for Europe, General Philip Breedlove of the U.S., recently released a new strategy for the European theater that listed its first priority as to "deter Russian aggression." It also called for more forces in the east, and not just on a rotational basis but stationed permanently. "The temporary presence of rotational forces complements, but does not substitute for an enduring forward deployed presence that is tangible and real," the strategy paper states.
Pentagon spokeswoman Laura Seal confirmed to me that all of the Army's prepositioned combat equipment being added to the theater next year as part of the European Reassurance Initiative will be maintained in Belgium, the Netherlands and Germany for rapid deployment eastward in case of emergency. Some training equipment will be permanently placed in the east. She emphasized that one out of the three combat brigades on the continent will be in Eastern Europe on a constant rotational basis. "Our commitment is to all of Europe," she said.
A Polish official I spoke with told me that his U.S. counterparts had communicated to Poland another reason they didn't want to preposition combat equipment, only training gear, in Eastern Europe: worries that the equipment might be more vulnerable there to capture by hostile forces. This is something of a Catch-22: That vulnerability is exactly why the prepositioned equipment is needed, the Polish official said.
Michal Baranowski, director of the Warsaw office of the German Marshall Fund, told me that although Eastern European officials rarely publicly criticize the Obama administration's military initiative, there is a widespread feeling in Eastern Europe and the Baltic states that they have been once again been slighted in favor of Washington's more traditional allies in Western Europe.
"You want to do away with this perception there's a NATO 'A' level and a NATO 'B' level, but the European Reassurance Initiative perfectly reflects that there is," he said. "The majority of the spending and equipment will go to Western European countries in existing U.S. bases and very little to the Eastern flank where the danger is the most imminent."
Beyond the perception of second-class status in the alliance, the eastern allies also face a real military problem, according to Baranowski. Russia's advanced "anti-access/area-denial" capabilities in the Baltic Sea could prevent NATO forces from stopping Russia if it wanted to takeover what's known as the "Suwalki Gap," the vulnerable stretch of land between Kaliningrad and Belarus. That move could cut off the Baltic states from NATO altogether.
"Poland is key to the efficient defense of the Baltic states," Duda told me.
To be sure, Poland's unease with the current U.S.-led program is both military and political. But the political aspects of bolstering Eastern Europe are no less important to the alliance than military ones. Poland is one of only a handful of NATO member states meeting its obligation to spend at least 2 percent of gross domestic product on defense. Estonia is another. Germany, Belgium and the Netherlands are all falling short.
It's going to become increasingly difficult to explain to Eastern Europeans how the U.S. and NATO are buttressing the eastern flank if most of the investment continues to end up elsewhere. The Russians are steadily reinforcing their side of the line but NATO is still struggling to adapt.
To contact the author of this story:
Josh Rogin at joshrogin@bloomberg.net
To contact the editor responsible for this story:
Tobin Harshaw at tharshaw@bloomberg.net
Before it's here, it's on the Bloomberg Terminal.
LEARN MORE