Editorial Board
Indonesia Needs More Taxpayers
The country has 255 million citizens. Fewer than a million pay what they owe.
by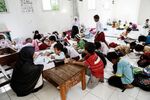 With some 255 million people and 17,000 islands, Indonesia is big in many ways except one: its tax base. Only 27 million citizens are registered taxpayers, and in 2014 less than a million of them paid what they owed. For Indonesia to live up to its potential, that number has to increase.
Indonesia has missed its revenue targets for several years running. Last year, with the plunge in oil prices, tax collections fell short by $17.2 billion. One fix, to be debated when parliament reconvenes next month, is a tax amnesty plan meant to raise more than $4 billion by persuading Indonesians to bring home money from overseas. Yet amnesties don't always work so well in countries like Indonesia, where taxpayers face little credible threat of punishment for not coming clean.
In any case, the only long-term solution is to widen the tax base. Most Indonesians, especially in rural areas, work in the informal sector and thus fall outside the tax net. The country has fewer than 40,000 tax inspectors, and their reputation for being sticky-fingered discourages citizens from declaring their true wealth. As a result, the country has a tax-to-GDP ratio of barely 12 percent -- lower than most of its neighbors and far lower than in the developed world, where ratios from 25 percent to 50 percent are common.
Indonesia can't count on a quick rebound in oil and gas prices to lift that ratio. Nor can it afford to postpone crucial investments in infrastructure, health and education. A dramatic increase in infrastructure investment at the end of last year pushed the government uncomfortably close to its mandated fiscal limit of 3 percent of gross domestic product. The International Monetary Fund and World Bank have already lowered growth forecasts for 2016 in part because of fears that some spending will have to be scaled back for lack of revenue.
In addition to the amnesty legislation, the government has begun taking steps to improve tax collection -- for example, by moving toward a single taxpayer number for individuals and exploring the use of third-party data, from property records to auto sales, to sniff out tax evaders. Both efforts will require improving the tax department's IT systems and hiring more inspectors. Meanwhile, amended bank secrecy laws could give authorities a better picture of where assets are hidden, and moving the tax directorate from the ministry of finance to the president's office could increase its budget and clout.
Most important, the government needs to bring more citizens, in both the informal and formal economies, into the tax net. The best way to do this is to broaden the reach of the value-added tax -- now riddled with unnecessary exemptions -- and raise rates.
Income tax rates could be revised as well, both to bring in more money and to stem rising inequality. The current system treats someone earning a little more than $35,000 the same as someone who makes $350,000. Employees with a single source of income should simply receive a bill rather than being required to file returns. And the government should eliminate exemptions and holidays for specific sectors and investment projects, as the Organization for Economic Cooperation and Development has urged.
These reforms are difficult, and none would raise money as quickly as a successful tax amnesty could. But Indonesia's revenue crunch is a long-term problem that demands lasting change.
--Editors: Nisid Hajari, Mary Duenwald.
To contact the senior editor responsible for Bloomberg View's editorials: David Shipley at davidshipley@bloomberg.net .
Before it's here, it's on the Bloomberg Terminal.
LEARN MORE