view
Women's Tennis Gets Shortchanged Again
The world's No. 1 male player misses a chance to denounce a sexist official.
by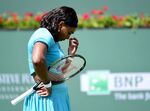 The swift backlash against sexist comments made by a tennis executive has forced him out. Yet much of the reaction also shows how much his attitude toward women athletes will remain in the game.
On Sunday, Raymond Moore, chief executive of Indian Wells Tennis Garden, which hosts the BNP Paribas Open, had this to say about the Women's Tennis Association:
In my next life, when I come back, I want to be someone in the WTA, because they ride on the coattails of the men. They don't make any decisions and they are lucky. They are very, very lucky. If I was a lady player, I'd go down every night on my knees and thank God that Roger Federer and Rafa Nadal were born, because they have carried this sport.
He then went on to praise Serena Williams's dominance in the women's game, while touting that the WTA has "a handful of very attractive prospects that can assume the mantle" once she retires. When asked to clarify whether he meant physically or competitively attractive players, he said, "I mean both." Late Monday night, Larry Ellison, who owns the tournament, said in a statement that Moore would be stepping down, praising the "ongoing, multigenerational, progressive movement to treat women and men in sports equally."
Williams, who's no stranger to unwelcome treatment at Indian Wells, responded to indignity with grace. "We, as women, have come a long way. We shouldn't have to drop to our knees at any point," she said. She noted that tickets to last year's women's final at the U.S. Open, in which she was going for the calendar Grand Slam, sold out before the men's. It should also be noted that Williams's sister, Venus, was instrumental in securing equal prize money for women.
Of course, one fallen tennis official doesn't signal a wholesale change in attitude toward. Novak Djokovic characterized Moore's comments as "not politically correct," a familiar trope from those would rather talk around sexism than acknowledge it. "They fought for what they deserve and they got it," Djokovic said of the WTA. "On the other hand I think that our men's tennis world ... should fight for more because the stats are showing that we have much more spectators on the men's tennis matches. I think that's one of the reasons why maybe we should get awarded more."
To his credit, Djokovic did acknowledge that women face many more barriers to success that spare the men. Not to his credit, he listed as one of those challenges: "hormones."
It was a hugely missed opportunity for the top-ranked men's player to point out that many of those barriers are born out of the attitude underlying Moore's comments. Characterizing the strides women's tennis have made as a function of the men's success is historically blind and a major slight to the women like Billie Jean King and the Williamses who fought for every concession while maintaining their athletic standing. These women have essentially had to work two jobs simultaneously: athlete and activist.
And the notion that the women's game is inherently inferior, touted by a tennis executive, only serves to block female players from having access to the best coaches and courts. Moore was complaining about the lack of parity among the women, without any consideration for his role in impeding talent development. We're never going to find the next generation of great women players until we value the ones we have.
Furthermore, Djokovic's assertion that men deserve to earn more than women is flawed simply because they already do. As the BBC's Tom Fordyce notes, "equal prize money" is paid out in the four Grand Slams and a handful of other tournaments, but there's still a wide gap in overall payouts between the men's and women's tours:

Djokovic would probably answer, as he already has, that those gaps exist because the men are bigger draws. But again, that isn't always the case, and that is a relatively subjective judgment of value. As sports economist David Berri told the Daily Beast, "There's an expectation that sports decision-makers are really sophisticated in what they're doing and they think really hard about these things, and the reality is that they're just guessing and they're just making up stuff." He added, "If you asked the WTA and ATP to determine the value of Serena Williams versus Roger Federer or Novak Djokovic, they wouldn't know how to answer that question."
It's the antiquated ideas of men like Moore and Djokovic that continue to devalue women's tennis. For a sport so caught up in its reputation for civility, its attitude toward women is oddly barbaric.
To contact the author of this story:
Kavitha A. Davidson at kdavidson19@bloomberg.net
To contact the editor responsible for this story:
Tobin Harshaw at tharshaw@bloomberg.net
Before it's here, it's on the Bloomberg Terminal.
LEARN MORE