Sports
The Cloud Over Yale vs. Duke Basketball
The Bulldogs' missing captain reminds us how inadequate colleges' approach to sex-assault cases can be.
by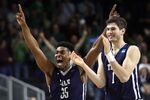 Among this year's March Madness upsets, 12th-seeded Yale defeating fifth-seeded Baylor stands on its own. It was the Bulldogs' first tournament appearance since 1962, and their first-ever tournament win in four chances. Yale will now take on defending champion Duke in a contest of academic titans that is being billed as the "preppy" matchup -- or, more frankly, "the Insufferable Bowl."
But despite the seeming improbability of Yale making it even this far, the elephant in the room is a former Bulldog: recently dismissed Yale captain Jack Montague. 
The university expelled Montague in February after an independent investigation determined he had sexually assaulted another student, according to a statement from Montague's lawyer. The school has respected Montague's privacy and has been tight-lipped in its explanation of the dismissal -- as has his accuser, who has not publicly come forward. After Montague was released, his teammates showed their solidarity by wearing T-shirts with his nickname and number on them during practice. That sparked a backlash on campus, with posters urging the team to "stop supporting a rapist." The team later issued an apology.
The relative silence of every other party involved has allowed Montague, his family and his lawyer to control the narrative in public. Earlier this month, his father told the New Haven Register that his status as a "withdrawn" student was really an expulsion, calling the move "ridiculous" and one that is "probably going to set some sort of precedent."
On Monday, Montague's lawyer, Max Stern, released a statement announcing his intent to sue Yale that basically reinforces every reason victims may choose not to come forward. He contends that Montague is being used as a "whipping boy" to be made an example of after years of the university failing to properly pursue rape cases. He extensively details the prior instances of consensual sex between the two, as if to imply that once a woman says "yes" to a man she surrenders her right to say "no." He says that "it defies logic and common sense that a woman would seek to re-connect and get back into bed with a man who she says forced her to have unwanted sex just hours earlier." He takes care to note that it took her a year to report the assault to a Title IX coordinator -- and that it was the coordinator, not the woman, who filed a formal complaint.
Obviously, we don't know what happened between Montague and his accuser. But all the issues raised in the statement have reasonable explanations if you're not already predisposed to disbelieve those who say they have been victimized. Women often return to their abusers as part of a highly ingrained cycle of abuse; a coping mechanism that allows one to convince herself that this horrible thing didn't actually happen to her. It's especially common with "acquaintance rape" -- the type of rape most likely to go unreported, perpetrated by someone she knows and has perhaps already been intimate with. When victims wait a long time to finally come forward, it's often because they've heard or suspected their abuser has attacked others. And given all that, Title IX requires a school to investigate sexual assault allegations whether or not a formal complaint is filed, so attempting to attach a timeline of the accuser's actions to her legitimacy is a moot point.
It's a strange twist of fate that Yale will face Duke Saturday afternoon. This month marks the 10-year anniversary of the Duke lacrosse scandal, which has become the go-to talking point for people arguing that women systematically lie about rape. Also, last January, the Blue Devils basketball team dismissed guard Rasheed Sulaimon with little explanation outside of some vague violation of team "standards." In March, the Duke Chronicle reported that several women had accused him of sexual assault months before his dismissal. Like Yale's administrators, Duke head coach Mike Krzyzewski cited the Family Educational Rights and Privacy Act as to why he couldn't be more specific about the circumstances surrounding the Sulaimon decision. (Sulaimon was ultimately picked up by Maryland and is playing for the Terps in this year's tournament.)
The relatively opaque process by which these campus investigations are necessarily conducted might suggest that such things are best left out of the public eye. On the one hand, dragging everyone through a highly publicized spectacle damages all sides, and does nothing to serve the goal of encouraging more victims to report. On the other hand, the lack of transparency is precisely what has allowed major institutions to sweep sexual assault under the rug for this long. Universities are clearly not equipped to properly handle rape cases. But that the system is broken to this extent doesn't negate the need for a system at all. 
The resolutions of such sexual assault cases, then, tend to be ultimately unsatisfying. The known unknowns are maddening, although they're mostly overlooked when it comes to taking the accuser's word. With all this in mind, viewers might find Saturday's matchup "insufferable" for reasons that have nothing to do with SAT scores.
This column does not necessarily reflect the opinion of the editorial board or Bloomberg LP and its owners.