U.K.
The U.K. Wasn't a Real EU Member Anyway
The European Union's deal with David Cameron is a public-relations charade.
by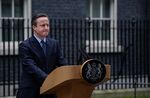 One could argue -- and some, like UKIP leader Nigel Farage, already do -- that the concessions British Prime Minister David Cameron obtained late Friday from other European Union leaders in order to stay in the bloc are meaningless. Or one could rejoice in a victory as Cameron does. That won't change a fundamental fact: The U.K. is not really part of the EU anyway.