Sports
Under Armour Buys Maryland a Home-Court Advantage
NCAA should standardize basketballs and other equipment.
by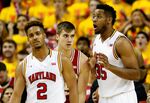 Is a sponsor giving a college basketball team an unfair competitive advantage?
That's the charge levied against the Maryland Terrapins, who have a deal with Under Armour through the 2023-24 season worth a reported $33 million. In addition to outfitting players and coaches in apparel from Under Armour, which is based in nearby Baltimore, the team uses basketballs manufactured by the company in home games, much to the chagrin of some visiting opponents.
In January, Iowa players complained about the balls after the Hawkeyes fell to the Terps 74-68, shooting just 5 for 26 from the three-point line. "It feels different," Iowa guard Peter Jok said, stressing that he wasn't making excuses for his team's poor shooting. "It's heavy like a street ball, like an outside ball."
That sentiment was recently reiterated by Wisconsin forward Nigel Hayes, who discussed the possibility of having a universal ball like the pros. With what seemed like a strong dose of sarcasm, he said the reason college hoops doesn't standardize equipment is because it's an "amateur sport … where money isn't the goal."
Of course, the very existence of college sports sponsorships belies that notion, and it's not just individual schools that vary in their equipment. For example, the Big 10 Tournament uses a Spalding ball, while the NCAA tournament uses a Wilson.
Last year, Wisconsin had its second-worst shooting game of the season at College Park, making just six of 22 three-point attempts and losing 59-53. Maryland's Big 10 Conference opponents see an eight-point drop in their three-point percentage when playing the Terps at the Xfinity Center. Even the head coach thinks the team has a home-ball advantage. "I always feel like when you play with a different ball than everybody else, it's an edge," Mark Turgeon said.
Unlike the NFL, college football doesn't have a universal game ball, but like in the pre-Deflategate pros, each offense is responsible for providing its own football. Surely nothing could go wrong there.
In college baseball, bats and balls aren't standardized either, though like basketballs and footballs, must adhere to some guidelines. The impact of sponsorship deals on the field is especially stark when it comes to bats. This post examines the differences between college bat sponsors in the 2014 NCAA World Series like Louisville Slugger and Rawlings across various metrics, including home-run rate and slugging percentage, theorizing that the differences in swing weight contribute to the disparity.
Schools should be allowed to negotiate their own sponsorship deals, but if equipment is becoming a determining factor in wins and losses, it's time to re-evaluate things. It's one thing if the equipment is individualized, like a bat, but it's a whole other story when you're talking about something like a basketball or football, which has to be used by everyone in the game. As Nigel Hayes reminds us, college sports is absolutely big business, and a game ball shouldn't give an unfair assist.
This column does not necessarily reflect the opinion of the editorial board or Bloomberg LP and its owners.