Declassified
Clinton's Security Clearance Is Under Scrutiny
Republicans in Congress see more cause for concern than Democrats do.
by and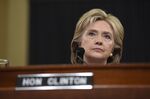 Now that several e-mails on Hillary Clinton's private server have been classified, there is a more immediate question than the outcome of the investigation: Should the former secretary of state retain her security clearance during the inquiry? Congressional Republicans and Democrats offer predictably different answers.
The State Department announced Friday that it would not release 22 e-mails from Clinton's private server after a review found they contained information designated as top secret. U.S. officials who reviewed the e-mails tell us they contain the names of U.S. intelligence officers overseas, but not the identities of undercover spies; summaries of sensitive meetings with foreign officials; and information on classified programs like drone strikes and intelligence-collection efforts in North Korea.
The FBI is investigating the use of Clinton's home server when she was secretary of state, which the bureau now has. The New York Times reported in August that  Clinton is not a target of that investigation. We reported in September that one goal is to discover whether a foreign intelligence service hacked in.
Representative Adam Schiff, the ranking Democrat on the House Intelligence Committee, said Clinton should not lose her security clearance for receiving information that was not marked classified at the time. "I'm sure she does hold a clearance, and she should," he told us. 
Representative Mike Pompeo, a Republican member of that committee who also has read the e-mails, told us, "It's important, given all the information we now know, that the House of Representatives work alongside the executive branch to determine whether it's appropriate for Secretary Clinton to continue to hold her security clearances."
Senate Intelligence Chairman Richard Burr told us the decision lies with the White House. "I think that's up to what the National Security Council is comfortable with," he said.
Burr, who has also read all 22 e-mails, said Clinton should have known to better protect the information they contain. "They are definitely sensitive," he said. "Anybody in the intelligence world would know that the content was sensitive."
His Democratic counterpart, Senator Dianne Feinstein, who also read them, told us that Clinton didn't originally send any of the e-mails and that they were largely from her staff, although she did sometimes reply. Feinstein said the intelligence community is being overly cautious by designating the e-mails as top secret.
"There's no question that they are over-classifying this stuff," she said.
Clinton's discussion of classified programs on an unclassified e-mail system is hardly rare. The issue, called "spillage," has plagued the government for years. It can apply to anything from a spoken conversation about intelligence programs outside of a secure facility, to printing out a document with classified information on an unsecure printer.
Still, it is forbidden. The State Department's Foreign Affairs Manual says "transmitting classified information over a communication channel that is unauthorized for the level of information being transmitted" is a "security violation." Such violations must be investigated by the State Department's own bureaus of human resources and diplomatic security. Punishment can vary from a letter of reprimand to loss of security clearance, according to the manual.
When asked about the status of Clinton's security clearance, State Department spokesman John Kirby said: "The State Department does not comment on individuals' security clearance status. We will say, however, that generally speaking there is a long tradition of secretaries of state making themselves available to future secretaries and presidents. Secretaries are typically allowed to maintain their security clearance and access to their own records for use in writing their memoirs and the like."
The Clinton campaign declined to comment.
During the Obama administration, it has not been automatic for officials to lose their security clearance while an investigation is underway. Just last week, the Washington Post reported that the chief of naval intelligence, Vice Adm. Ted Branch, had his security clearance suspended because he is wrapped up in a Justice Department investigation into contracting corruption. He has not been able to read, see, or hear classified information since November 2013. Branch has not been charged with any crime and continues to serve in that post.
But when then-CIA director David Petraeus came under FBI investigation at the end of 2012, his security clearance was not formally revoked. After he resigned, his access to classified information was suspended, according to U.S. officials. In that case, Petraeus had provided notebooks with highly classified information to his biographer and mistress Paula Broadwell, whose security clearances did not permit her to receive it.
Unlike Broadwell, officials familiar with the e-mails tell us that Clinton and her e-mail correspondents were cleared to receive the information that has been classified after the fact. Steven Aftergood, who heads the project on government secrecy for the Federation of American Scientists, told us, "It's entirely possible for information to start out as unclassified and to be classified only when the question of public disclosure arises."
William Leonard, who oversaw the government's security classification process between 2002 and 2008 as the director of the Information Security Oversight Office, told us this kind of "spillage" was common. "The bottom line is this, if you have the opportunity to pore through any cleared individual's unclassified e-mail account, it's almost inevitable you would find material that someone, some way would point out should be classified." He also said that in Clinton's case, "there is no indication that she deliberately disregarded the rules for handling classified information so I see no reason why she should not remain eligible for a security clearance."
Nonetheless, Leonard added that Clinton's decision to use the private e-mail server as secretary of state "reflected exceedingly poor judgment, and those that advised her on this did not serve her well."
The FBI investigation may determine that neither Clinton nor her aides broke the law, but Clinton herself has said she used poor judgment. It's an open question how that poor judgment will affect her access to state secrets, during and after the FBI's investigation.
To contact the editor responsible for this story:
Philip Gray at philipgray@bloomberg.net
Before it's here, it's on the Bloomberg Terminal.
LEARN MORE