Editorial Board
Let Coal Die. Save Coal Country.
Kentucky and West Virginia can still thrive in a green economy.
by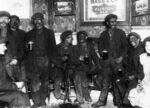 The decline of coal as a source of electric power is inevitable and well under way. This is a good thing, because whether measured by its effect on public health or its contribution to global warming, coal is more harmful than any other widely used source of electricity.