Labor
Want a Job? Go to Brooklyn
Check the Bronx, Queens or Staten Island if that doesn't work.
by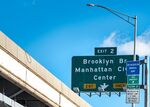 Since writing this column Thursday I have learned something that casts New York City's employment numbers in a new light and makes Brooklyn's growth look a little less impressive. At the beginning of 2015, about 170,000 local-government jobs disappeared from Manhattan and were divided among the other four boroughs. What appears to have happened is that New York City's public school system and some other local agencies began to report employment by where people worked rather than where the main office was. Without this sudden local-government boost, Brooklyn's job growth would be in sixth place among U.S. counties of 250,000 people or more. Among counties of 1 million people or more, Brooklyn remains No. 1. For more explanation and revised charts, click here.

The new job engine of the U.S. is, get this, Brooklyn. Yes, it is widely known that the most populous of New York City's boroughs has been undergoing an economic renaissance. But it's still something of a shock to learn that Kings County, aka Brooklyn, population 2.6 million, has seen faster job growth since 2007 than any other county of significant size  in the nation.
The Bronx, Queens and Staten Island aren't doing badly either. Here are the 15 counties of more than 250,000 people  that experienced the fastest job growth from the second quarter of 2007 through the second quarter of 2015 (the most recent quarter for which data is available):

So when it comes to creating jobs during the current economic recovery, the leaders have been suburbs of Houston, Dallas and Denver,  Austin, Texas, and its suburbs, San Francisco and … the outer boroughs of New York City. New York County, also known as Manhattan, was nowhere near the leader list, with only 0.07 percent annualized job growth since 2007. Manhattan still accounts for more jobs than the other four boroughs combined (2.3 million to 1.7 million), but almost all of New York City's much-vaunted recent employment growth has been occurring a bridge, tunnel or ferry away.
I got all this wonderful data from Jed Kolko, a veteran real estate economist who was trying to answer the question of whether job growth in the U.S. really has shifted from suburbs to cities. He was reacting in part to a study released last year by the Portland, Oregon, think tank City Observatory that showed what seemed to be a sea change after 2007. Here's a chart based on that report that I included in my column last week on General Electric's decision to move its headquarters from suburban Connecticut to downtown Boston:

City Observatory got these numbers by examining individual census blocks in metropolitan areas, and grouping them as in the city center if they were within a three-mile radius of the center of the central business district of the biggest city in the metropolitan area. Employment data on these census blocks was only available on a consistent basis from 2002 through 2011, hence the limited time frame.
Kolko wanted to get both a longer view and a more up-to-date one, so he looked instead at county-level jobs data, which is available through the middle of 2015 and all the way back to 1981. He wrote a fascinating blog post about what he found (and a follow-up on wages), but this chart is really the core:

Kolko's data clearly shows a shift in momentum related to the one that City Observatory found. The urban counties saw slight job losses (a -0.04 percent annualized growth rate, barely visible on the chart) from 2000 to 2007, and modest gains (0.44 percent, annualized) from 2007 to 2015, while job growth slowed in suburban counties. But the rate of job growth was still higher in the suburban counties than the urban ones.
There are issues with this county data, some of which City Observatory's Joe Cortright raised in a post responding to Kolko. The main one is that Kolko's division of counties into urban, higher-density and lower-density doesn't match City Observatory's city-center-versus-periphery divide or with common understanding of what's a city and what's a suburb. East Coast and West Coast counties whose residents think of themselves as suburbanites -- Bergen County in New Jersey, Fairfax County in Virginia, Westchester County in New York, San Mateo County in California -- are classified as urban because of their high population density, while jobs in big Sun Belt cities such as Atlanta, Houston and Phoenix are classified as suburban because those cities are in less densely populated counties.
This can't be helped -- Kolko's method of divvying up counties seems like the most sensible one available -- but it may result in some undercounting of urban job growth because, for example, struggling New York suburbs get counted as urban while growing Houston doesn't.
Another question Kolko raises that none of the data can really answer yet is whether the momentum shift since 2007 represents a secular change or is mainly evidence of the cyclical aftermath of a housing bubble. A large share of job growth from 2000 to 2007 was driven by a house-building boom concentrated in suburbs and exurbs. Since that boom went bust, those counties have been nursing an economic hangover, but most will presumably get over it eventually.
The list of job-growth champions in my first chart offers some support for this view. Colorado and Texas didn't go through the same real estate bubble and bust that many states did, and their suburbs have kept adding lots of jobs.
The boom in employment in New York City's outer boroughs -- all of which except Staten Island are, by U.S. standards, quite urban -- seems like another phenomenon entirely. High real estate prices in Manhattan have been helping drive population growth in Brooklyn and Queens in particular since the early 1990s. But all the employment figures in this column are based on where the jobs are, not where the workers live.
Which job categories drove the growth in Brooklyn? Not manufacturing -- despite all the borough's makers of artisanal this or that, the sector actually shed 3,791 jobs between June 2007 and June 2015. And it can't be urban farming, because agricultural employment doesn't show up in the county payroll data. Here are the sectors that gained the most payroll jobs:

It isn't exactly a new-economy miracle. Old-style service jobs -- local government, schools, health care, restaurants -- accounted for most of the growth. Still, it's a lot of jobs. For the moment, at least, Brooklyn is America's boom borough.
This column does not necessarily reflect the opinion of the editorial board or Bloomberg LP and its owners.