Sports
Tennis Match-Fixing Should Worry U.S. Sports
Even a sport of elites can't keep out the dark side of gambling.
by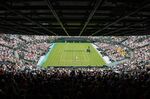 Even with the Australian Open underway in Melbourne, the tennis world's big topic is a damning report by the BBC and BuzzFeed News UK alleging pervasive match-fixing over the past decade. As the scandal plays out, it will provide a cautionary tale not just for the sport, but for the future of legalized sports betting in the U.S.
Documents obtained by the outlets point to 28 players who in 2008 were flagged for possibly throwing matches by the Tennis Integrity Unit, the sport's anti-corruption body.  While the news organizations chose not to name the accused, they reported that 16 of the players in question have been ranked in the world's top 50. Investigators suspected that thousands of dollars were bet on fixed matches, including three Wimbledon matches. Tennis adopted a new anticorruption code in 2009 and chose not to retroactively investigate the flagged players because of legal advice, the report says, even though match-fixing was explicitly illegal under previous iterations of the code.
In total, the BBC and BuzzFeed say more than 70 players have been reported to tennis authorities, one-third of whom were flagged to the TIU as repeat offenders. None has been disciplined. The integrity unit's failure to act has some investigators and watchdog groups accusing it of being ineffectual at best, or covering up the cheating at worst. Tennis enjoys a rather gilded reputation, marketing itself to the country-club set and claiming to be the original "sport of kings." If baseball and football are Budweiser beer and Nathan's hot dogs, tennis is Grey Goose martinis and Morimoto sushi.
Yet tennis's place among the plebeians is cemented by its popularity among gamblers -- which the sport not only sanctions, but directly benefits from. In the U.K., where sports betting is legal, tennis is second only to soccer in the amount of money wagered. In December, Bloomberg News estimated the tennis betting market to be around $5 billion worldwide. While the ranked players and Grand Slams will garner the majority of the headlines, it's the smaller, second-tier circuit tournaments involving no-name players that present the widest threat to the sport's integrity. The International Tennis Federation operates a vast professional developmental league, hosting 1,500 tournaments a year with a total of 93,000 matches. Each of these involves ample opportunity for betting -- not just on winners and losers, but smaller side-bets such as individual game or set outcomes.
It's those side-bets -- known as prop bets, short for "proposition" -- that should worry tennis officials, as well any league currently re-evaluating its stance on gambling. Tennis is perhaps the sport most inherently susceptible to match-fixing and point-shaving simply by being an individual sport, where one athlete has the most control over the outcome of any given point. Like with most gambling scandals, the players most vulnerable to crooked betting influences aren't the highest earners or most recognizable names, though the BBC and BuzzFeed did identify Grand-Slam winners "among the core group of 16 players who have repeatedly been reported for losing games when highly suspicious bets have been placed against them." (After the report, Novak Djokovic said he was indirectly offered $200,000 in 2007 to lose a first-round match at a tournament in St. Petersburg, while also denying a report by an Italian newspaper that he threw a match at the Paris Masters a month later.) It's the relative unknowns who may find the lure of a $50,000 payout too hard to ignore.
Whether willful or not, the Tennis Integrity Unit's failure to act on the 2008 report seems to have had major consequences. "They could have got rid of a network of players that would have almost completely cleared the sport up," one of the investigators told the BBC and BuzzFeed. Instead, the European Sports Security Administration, a watchdog group set up by sports-gambling operators, cited 73 instances last year of suspicious betting and match-fixing in tennis, the most of any sport.
The TIU's inaction also set the tone for an explosion in the tennis gambling industry, particularly surrounding online prop bets. Six years ago, betting on tennis totaled just 2 percent of revenue in online sports gambling, excluding horse racing. As of last month, that number had risen to 18 percent. 
That growth has also been driven by the International Tennis Federation's efforts to boost its bottom line. In December, the organization renewed its deal with Sportradar, a Swiss sports data company that also has partnerships with the NFL, NHL and Nascar. Sportradar will pay the ITF $70 million over five years for access to exclusive data rights. (For reference, Sportradar's deal with the NFL is just $5 million a year.) That data is in-game and in real time, information crucial to betting houses that continue to take online prop bets during matches. 
Tennis has thus brought itself down to the level of other mainstream sports by taking a public position to fight betting corruption while striking deals with companies involved in the gambling industry. Andy Murray had a good point in criticizing the "hypocritical" nature of tennis allowing betting firms to sponsor tournaments, akin to the NBA, NFL, NHL and MLB having partnerships with daily fantasy sites DraftKings and FanDuel.
I'm among those who favor legalizing -- and heavily regulating -- sports betting, both to bring a black market above ground and to prevent the various sports leagues from being able to pick and choose the kind of betting (and betting companies) that should be allowed. Yet the proliferation of match-fixing accusations and online prop betting in tennis doesn't inspire confidence in any sport's ability to police itself -- a lesson we've also learned with bribery allegations at FIFA and the doping scandal in track and field. When the seemingly inevitable day comes that sports gambling is legalized across the U.S., let's hope sports officials and regulators alike take heed of the sport of kings' tarnished crown.
This column does not necessarily reflect the opinion of the editorial board or Bloomberg LP and its owners.