Cars
Some Carmakers Veer Away From Silicon Valley
Toyota and Nissan want to grab first-mover advantages on their own.
by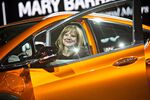 Following hard on the heels of a Consumer Electronics Show that highlighted the auto industry's deep anxieties about the future, the annual Detroit Auto Show finds automakers back on home turf and reveling in the surprising strength of their current position.
The luxury cars, big trucks and SUVs that dominated this week's show aim to keep the industry's record sales and fat margins rolling, even as the tech industry and news media herald the coming "disruption" of private car ownership. As automakers set about bridging the gap between the current prosperity and the looming challenges that were in focus at last week's CES in Las Vegas, the big issue will be the extent to which they go it alone or rely on partnerships with tech giants.
After several years of mounting concerns that Silicon Valley firm's push into mobility would put them on a crash course with the automakers, players on both sides seem to be acknowledging that partnerships can help transcend what could have been a bloody zero-sum game. Speaking at the Automotive News World Congress adjoining this week's auto show, Google's self-driving-car chief John Krafcik said that joint ventures with auto industry players are "essential" to the search giant's self-driving car plans. Many automakers seem to share this perspective, announcing deals in recent weeks with Amazon, Lyft, Qualcomm and others.
The advantages of such partnerships are already on display. GM's new Chevrolet Bolt electric car, which wowed crowds at both CES and Detroit, was developed at a blistering pace thanks to heavy collaboration with the Korean electronics firm LG. With LG pitching in to develop and source the Bolt's battery, motor, instrument cluster and infotainment system, GM will beat its main rivals Tesla and Nissan to deliver an affordable EV that can drive 200 miles between charges (a capability seen as critical to buyer acceptance for electric-only cars). With a $500 million investment in the shared mobility app Lyft, GM hopes to gain a similar advantage in the race toward shared autonomous car services.
But it's also becoming clear that finding mutually beneficial relationships between auto and tech firms is a big challenge. The reported co-production deal between Google and Ford, which seemed to herald this new era of cooperation, was widely expected to be announced at either CES or Detroit. But Krafcik didn't mention it, nor did anyone from Ford confirm that such a deal exists. The Yahoo News reporters who broke news of the deal are standing by it, while others are reporting that "last minute snags" may have scuttled a planned announcement. Considering the widespread paranoia among traditional automotive players about the tech industry's desire to turn them into a contract manufacturer like Apple's Chinese phone-builder Foxconn, it comes as no surprise to learn that Ford is taking its time to negotiate its partnership with a firm that wants to get rid of all human control of cars.
For some automakers, the risk of dependence on firms with such different visions for the future of mobility has them charting more independent courses. Toyota's autonomous drive efforts involve a remarkable $1 billion investment in a machine-learning and artificial-intelligence research operation, obviating the need for a tech firm partner. Renault-Nissan chief executive officer Carlos Ghosn recently insisted that his firm would not chase GM into partnership with a car-sharing app, and announced that his Franco-Japanese alliance would develop 10 autonomous models in-house by 2020. Even Ford seems to be resisting the allure of a car-sharing app deal, instead using its Ford Credit arm to experiment with a shared-lease model. 
This balancing act, in which automakers reap the advantages of outsourcing to partners while holding on to the fatter parts of the value chain (like engines) is nothing new for the industry. Automakers have been outsourcing increasing amounts of development and assembly work to their suppliers for decades, lowering their enormous fixed development costs but reducing their role in the value chain to only drivetrain development, final assembly, marketing and distribution. We've come a long way from Henry Ford's vertical integration model, in which raw materials entered the factory at one end and cars came out the other.
Yet as cars become smarter and more autonomous, automakers may have to rethink this shift. If they outsource the core competencies of future mobility -- including battery technology, hybrid systems, vehicle-sharing platforms and all the other forms of software that could make up half of a new vehicle's value by 2020 -- they could find themselves dependent on technology partners whose brands will eventually outshine their own. This worry helps explain new investments in core technologies, such as the joint purchase by Audi, BMW and Daimler of Nokia's HERE mapping division.
In the next few years it's going to become increasingly clear which car brands made smart partnerships and invested in core competencies, and which traded away long-term viability for an ephemeral head start. After all, the much-vaunted "first mover advantage" is not simply a question of being first to bring new products to market. Just ask Sony, whose huge head starts in portable music players, e-readers and smart watches led to long-term disappointment.
Rather, in a fundamental shift like what the auto industry is facing, the first mover's real advantage is its head-start developing the technologies and relationships that will keep its business relevant into the future. By rushing into new markets without securing strong positions in the new technologies that underlie them, once-dominant car brands could find themselves becoming the Walkman in a world of automotive iPhones.
This column does not necessarily reflect the opinion of the editorial board or Bloomberg LP and its owners.
To contact the author of this story:
Edward Niedermeyer at edward.niedermeyer@gmail.com
To contact the editor responsible for this story:
Tobin Harshaw at tharshaw@bloomberg.net
Before it's here, it's on the Bloomberg Terminal.
LEARN MORE