Poland Needs an Independent Central Bank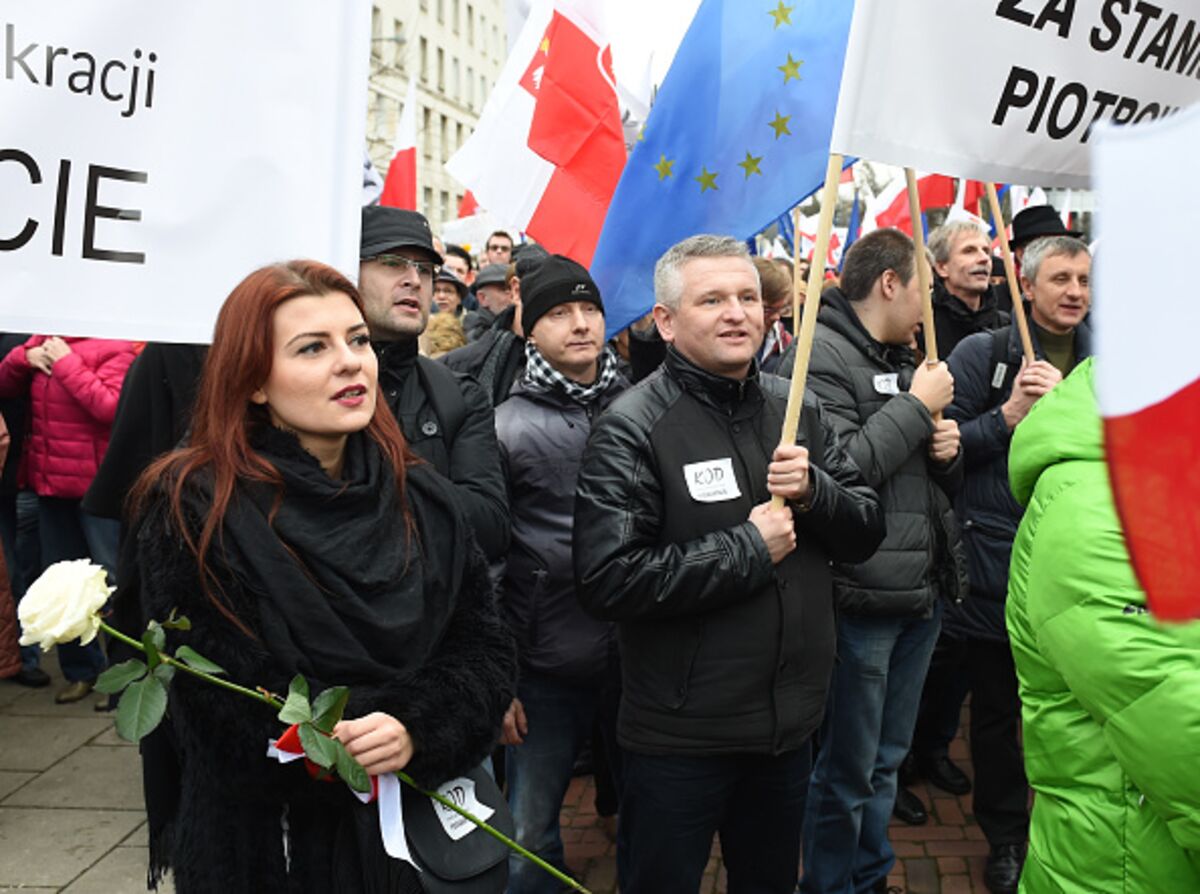 Varsovians protest government changes.
Photographer: JANEK SKARZYNSKI/AFP/Getty Images
In the two months since it won an absolute majority in parliament, Poland's Law and Justice Party has seemed more intent on achieving something close to absolute power.
The new government annulled its predecessor's appointments to the country's highest court, put in five of its own appointees, and then passed a law to curb the court's powers. Complaining of media bias, it fired the management of Poland's state broadcasters, weakened the media regulator, and named a former party campaign manager to run public television. Another Law and Justice (PiS) stalwart has been tapped to lead the intelligence services. These and other moves have been strongly criticized in Europe, prompting comparisons with Hungary's authoritarian rulers. In Poland, they have sparked protests and eroded public support for the party.
Yet the new rulers' most alarming changes may be ahead -- because they're now preparing to retool Poland's economic policy.
Eight of the 10 members of the central bank's monetary policy council will soon reach the end of their terms. The parliament will name six replacements, and the new PiS-supported president, Andrzej Duda, will appoint the other two. PiS has made it clear it wants a more government-friendly central bank, one that's more willing to lower interest rates -- something that Marek Belka, the current bank governor, says isn't needed. (Belka's term ends in June.)
This could be a problem, especially if the PiS government follows through on its promises to increase spending. It has proposed, among other things, to provide a 500 zloty ($125) monthly child subsidy for poorer households, to lower the retirement age, to raise tax-free income thresholds, and to boost the minimum wage. The child subsidy program alone is estimated to cost 19 billion zlotys in 2016.
The danger is that PiS will want to pay for its populist pledges by borrowing, and will count on the central bank to pave the way by pushing down interest rates. It would be a double shame because Poland's economy remains in need of steady, competent management.
The economy has certain strengths after years of growth, including strong trading relationships and a deep bench of international investors. But living standards remain well below the European average, parts of the country have not reaped the benefits of growth, and labor markets remain too inflexible. Poland has one of Europe's fastest-aging demographics, putting a strain on social services. While gross domestic product is growing -- officially, at a rate of about 3.5 percent in 2015 -- a weak currency makes this growth appear stronger than it really is. The national deficit has been steadily declining, but it remains over the European Union's 3 percent limit.
Poland's problems are structural, not of a monetary nature, so the government should not lean on the central bank to solve them. But its aggressive moves to dominate the constitutional court and the media have made investors worry that it might. This week, in parliamentary hearings, the nominees for the monetary policy committee will have a chance to declare their loyalty to the independent central bank mandate, rather than the PiS government's mission. That would send an important signal to investors.
To contact the senior editor responsible for Bloomberg View's editorials: David Shipley at davidshipley@bloomberg.net.